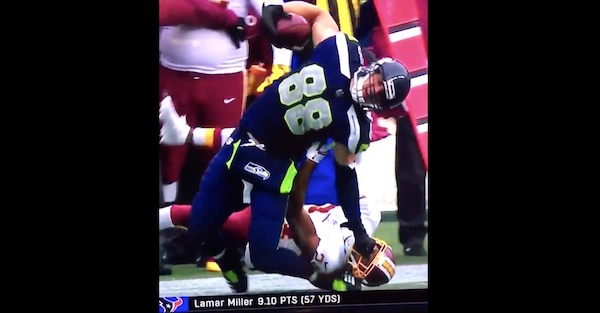 @bionicdee500/Twitter
The Washington Redskins picked up an impressive road win at Seattle on Sunday, and former Pro Bowl cornerback Josh Norman had one of his best games of the season.
Norman also made a dirty horse collar tackle on Jimmy Graham, and a video has emerged of Norman punching Graham in the groin after the he brought him down.
Related: Bill Belichick names the ?first guy? he would recommend for the NFL Hall of Fame
The Redskins still won the game and kept their playoff hopes alive, and Norman was a major part of the win.
But he can probably expect a call from the league office, and he will likely be fined and possibly even suspended for the incident. A suspension might not happen, but that play certainly warrants a fine.
Norman is known for being a trash talker, but that kind of play has no place in football.