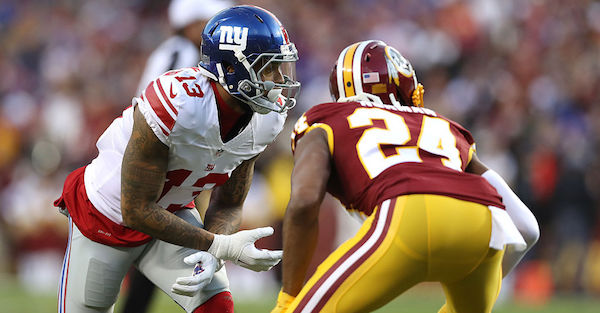 Rob Carr/Getty Images
LANDOVER, MD - JANUARY 01: Wide receiver Odell Beckham #13 of the New York Giants lines up against cornerback Josh Norman #24 of the Washington Redskins at the line of scrimmage in the first quarter at FedExField on January 1, 2017 in Landover, Maryland. (Photo by Rob Carr/Getty Images)
Washington Redskins cornerback Josh Norman has never been one to mince words. He has been known for his trash talk the last few years, and he went after two of the top receivers in the NFL in a recent interview with Bleacher Report.
Related: Josh Norman said Dez Bryant made a threat, and now he?s backtracking like no other
During the interview, Norman was asked about division rivals Dez Bryant and Odell Beckham Jr. He didn't hold back about either.
Norman called Bryant "just a guy," and he said Bryant "doesn't 'wow' you" anymore.
He then said Beckham acts tough, but, "He's a big kid."
Norman went on to say there will be "bad blood" during the 2017 season when he squares off against the rivals.
"Trust me when I tell you, it's going to be bad blood this year," Norman said. "You think the NFC East didn't like each other before? This year right here? There's going to be a lot of fines and maybe some suspensions."
Norman said he'd let "all hell break loose" during his matchups with Beckham and Bryant.
"I'm going to be honest with you: This s— is going to get really ugly. Because I do have a safety [D.J. Swearinger] that don't give a f— and I definitely don't. And I know they don't have that many people on the offense who do on their side."
Norman offered praise for Julio Jones and Antonio Brown, but he clearly doesn't have much respect for Beckham or Bryant.
Norman and the Redskins will square off against the Dallas Cowboys and the New York Giants two times each, so he will have an opportunity to back up his trash talking.
Norman and Beckham have gotten into altercations before, particularly when Norman played for the Carolina Panthers two seasons ago. If Norman means what he said, we can expect more fireworks between the two next season.
(h/t ESPN)