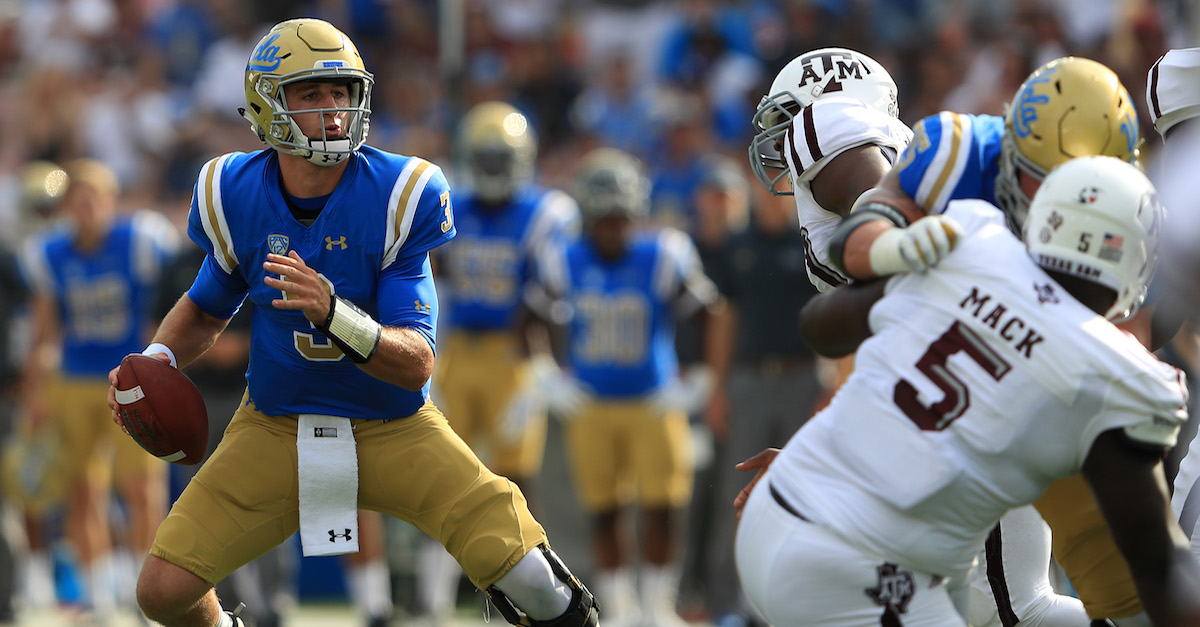 ean M. Haffey/Getty Images
PASADENA, CA - SEPTEMBER 03: Josh Rosen #3 of the UCLA Bruins scrambles from the pocket during the first half of a game against the Texas A&M Aggies at the Rose Bowl on September 3, 2017 in Pasadena, California. (Photo by Sean M. Haffey/Getty Images)
UCLA quarterback Josh Rosen has yet to declare for the 2018 NFL Draft, but his preference of which team potentially selects him has been well documented.
Prior to Tuesday's Cactus Bowl game on Tuesday, Rosen told media members that he would "rather be a lower pick at the right team than a higher at the wrong team," via ESPN's Josh Weinfuss.
Rosen had previously confirmed that he will make his draft decision after the Bruins' bowl game, which means it should come very soon. He's already projected as one of the top quarterback prospects in this year's draft should he declare, with several teams looking to fill the position.
The Cleveland Browns are already guaranteed to have the No. 1 overall pick for the second consecutive year and once again struggled with numerous quarterbacks in 2017.
The New York Giants currently hold the No. 2 pick and are expected to move on from former franchise QB Eli Manning. However, the Giants could drop in the draft order with a win and an Indianapolis Colts loss on Sunday.
A recent report claimed that Rosen would opt to stay at UCLA for his final season should Cleveland secure the No. 1 pick, which came out prior to the Browns' solidifying their draft spot with a Week 16 loss.
Cleveland is likely the example Rosen alluded to given its ineptitude at developing a consistent franchise quarterback since re-entering the league in 1999.
The Giants, on the other hand, still have a talented, albeit injured wide receiving corps and several pieces that should make their rebuilding project much easier.
Still, we'll have to see what Rosen's decision is before any additional speculation.