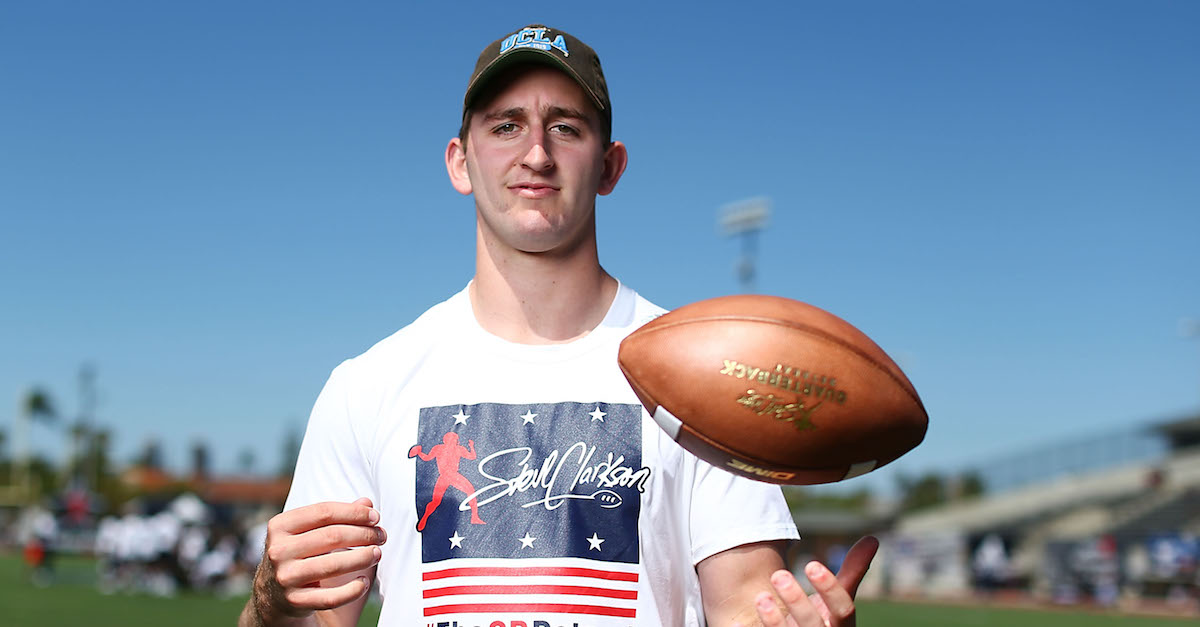 Joe Scarnici/Getty Images
CORONADO, CA - MAY 27: Josh Rosen of UCLA attends Steve Clarkson's 13th Annual Quarterback Retreat on May 27, 2017 in Coronado, California. (Photo by Joe Scarnici/Getty Images)
The Buffalo Bills may be looking to make a splash in the upcoming NFL Draft, and at least one reporter believes it could be to land UCLA standout quarterback Josh Rosen at No. 2 overall.
Rosen has long been considered one of the top two quarterbacks in the upcoming draft class, and whether the move goes down will depend on the Cleveland Browns and New York Giants deciding he isn't the quarterback of the future for their respective franchises.
Here's what Eric Galko of Sporting News relayed, per Giants Wire:
"(The Bills) have aggressively scouting quarterbacks all year long. I think Josh Rosen is the apple of their eye. It?ll be hard to go up and get him, but I think the tie between Buffalo and Giants GM David Gettleman kind of paints a picture of where they both might be thinking to go,? Galko told WGR 500.

?The Bills have been stockpiling assets. One reason to do that is to make a move to get a quarterback. Whether it?s moving up in draft, trading to get a guy like Nick Foles, or to just take multiple quarterbacks in this draft. They knew that we?re a playoff team, to get to that next step we need a franchise quarterback, and they don?t believe Tyrod Taylor or Nathan Peterman are those guys.?
Peterman was a fifth round draft pick from this year's crop. He started two games, going 1-1 with a horrific five interception game in November.
Taylor was a holdover from the Rex Ryan era, never truly getting the backing a franchise quarterback would have. After two seven-win seasons, he led the Bills to an 8-6 record and a playoff berth. He should finally be on his way out this summer, with just $1 million of his $10 million 2018 salary guaranteed.