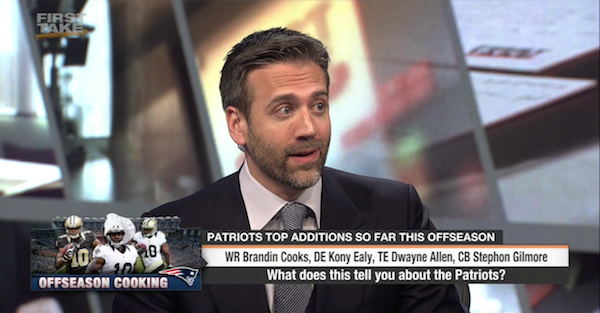 ESPN Screen Shot
The New England Patriots have been as active as any team in the league this offseason, and they are the clear favorites to win Super Bowl LII next season.
The Pats have added corner Stephon Gilmore as a free agent, and they have traded for receiver Brandin Cooks, tight end Dwayne Allen and defensive end Kony Ealy. ESPN First Take host Max Kellerman believes these moves signify the end of the Bill Belichick era in Foxboro.
Related: In his first game back, Tom Brady made ESPN?s Max Kellerman look like an absolute fool
?Belichick knows that Brady?s and his days are numbered, obviously,? Kellerman said. ?Since when do the Patriots load up by trading their highest draft picks for players?
?When does Belichick trade his highest available draft picks for the present? Right now. He is getting ready for his and Tom Brady?s swan song. Now, my belief is that it will be this season.
Tom Brady turns 40 next season, though he has repeatedly said he wants to play for 3-5 more seasons.
?The point is, he knows the end is coming and he is absolutely loading up to win at least one more Super Bowl, because at this moment they are so clearly the odds on favorites.?
Belichick will be 65-years-old next season, and he is the second oldest coach in the NFL behind Pete Carroll. Kellerman might be accurate in his prediction, but the Pats will likely be a Super Bowl contender until either Brady or Belichick retires.
(h/t NESN)