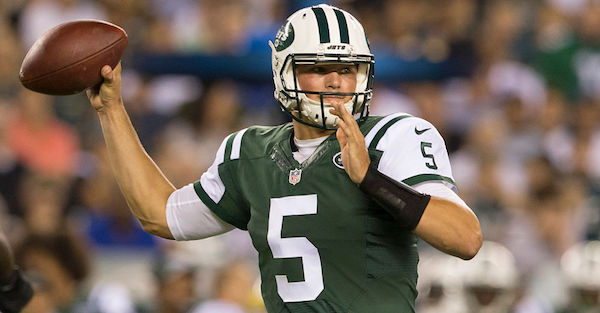 Mitchell Leff/Getty Images
PHILADELPHIA, PA - SEPTEMBER 1: Christian Hackenberg #5 of the New York Jets throws a pass in the second quarter against the Philadelphia Eagles at Lincoln Financial Field on September 1, 2016 in Philadelphia, Pennsylvania. (Photo by Mitchell Leff/Getty Images)
The New York Jets have been looking for a franchise quarterback for quite some time, and the QB of the future likely isn't on the current roster either.
The Jets picked former Penn State QB Christian Hackenberg in the second round of the 2016 draft, but he couldn't even find playing time despite the team employing several below average quarterbacks.
A new story from Bleacher Report's Doug Farrar suggests Hackenberg might never be ready to become a starter in the league.
According to Farrar, Hackenberg still struggles to make basic throws. Here's a video from Hackenberg at a recent Jets practice:
Related: One of the worst teams in the NFL may add yet another quarterback 
Farrar wrote that Hackenberg appears to be third on the depth chart during OTAs, behind veteran Josh McCown and Bryce Petty. He also said Hackenberg needs to fix "several glaring faults" if he wants to become a starter.
"This is not intended to crucify the player; more to detail and indicate just how far Hackenberg is right now from having the attributes required to be a successful starting quarterback in the NFL," Farrar said.
The fact that the Jets spent a second round pick on him means they'll at least need to give him a shot before they move on to someone else. They also spent a second round pick on Geno Smith a few years prior, and that didn't work out well for them either.
If Hackenberg doesn't make serious strides this offseason and he doesn't see the field in 2017, his tenure with the Jets might come to an end rather quickly.
(h/t The Spun)