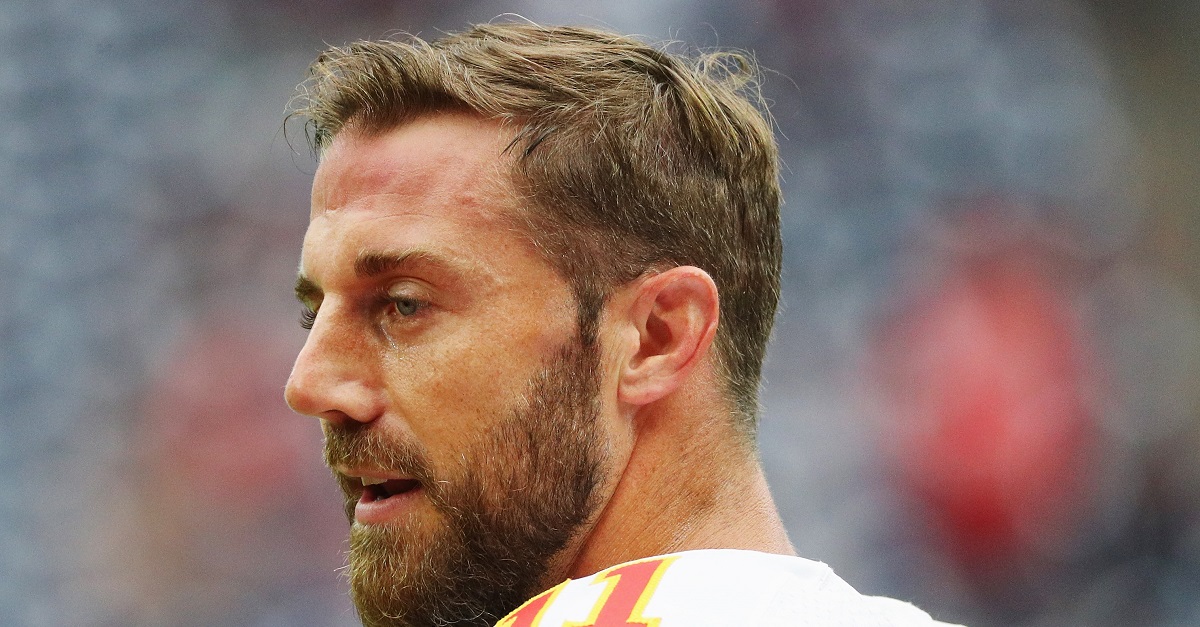 Scott Halleran/Getty Images
HOUSTON, TX - SEPTEMBER 18: Alex Smith #11 of the Kansas City Chiefs works out on the field prior to the start of their game against the Houston Texans at NRG Stadium on September 18, 2016 in Houston, Texas. (Photo by Scott Halleran/Getty Images)
Alex Smith is under contract with the Kansas City Chiefs for another year, but it doesn't mean the franchise plans on keeping him around.
Ian Rapoport of NFL Network is currently on the recording stating that the Chiefs "are going to explore trade options" regarding their veteran quarterback. He even went as far as pointing to the team's belief that Patrick Mahomes is the quarterback of the future as the reason behind the thought process.
Furthermore, Rapoport said that two potential spots for Smith are the Cleveland Browns and Arizona Cardinals.
Following an epic collapse on Saturday to the Tennessee Titans, Smith wasn't having any future-based conversations, even when being pressed by members of the media.
"I mean, are you kidding?" Smith said, via the Kansas City Star. "I signed a contract, I'm under contract for another year. So like I said, I'm not thinking about anything else. I'm obviously disappointed. I felt like we had a good chance, and it's gone. It's over."
Obviously, it wouldn't be Smith's decision if Kansas City did want to trade him.
The Browns and Cardinals are both in weird predicaments. Cleveland won as many games this season as you and I did, and we're not even a National Football League team. As for Arizona, the Cardinals have a roster built for a playoff run, but lack a competent quarterback behind center.
If Smith does have a say in this, he would likely prefer to go to Arizona.