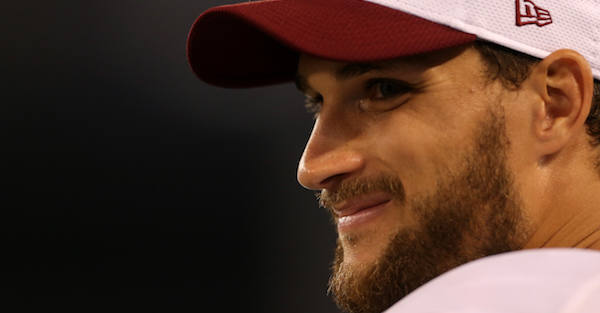 Matt Hazlett/ Getty Images
BALTIMORE, MD - AUGUST 29: Quarterback Kirk Cousins #8 of the Washington Redskins looks on in the third quarter of a preseason game against the Baltimore Ravens at M&T Bank Stadium on August 29, 2015 in Baltimore, Maryland. (Photo by Matt Hazlett/ Getty Images)
All signs are pointing to former Washington Redskins quarterback Kirk Cousins hitting the open market this summer after consecutive years of franchise tags.
While Cousins is sure to be in demand, Pro Football Talk is reporting that only the New York Jets may be willing to give the gunslinger a fully-guaranteed contract, meaning they'll be on the hook for the entire salary they hand out regardless of how he pans out.
Cousins will have plenty of suitors as the most proven quarterback commodity on the free agent market, should he land there.
Cousins was a 2012 fourth-round pick who took over as the full-time starter in 2015. He's thrown for at least 4,000 yards, 25 touchdowns and 11, 12 and 13 interceptions over the last three years, respectively. Simply put, the 29-year-old quarterback is going to get paid.