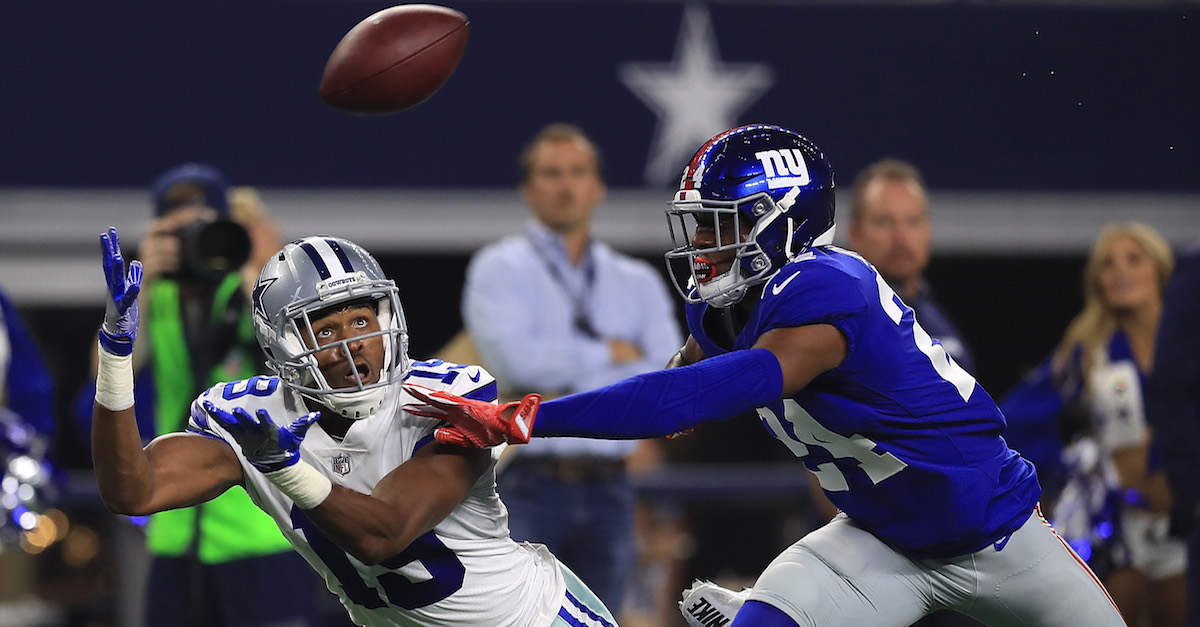 Ronald Martinez/Getty Images
ARLINGTON, TX - SEPTEMBER 10: Brice Butler #19 of the Dallas Cowboys dives for a pass against the efforts of Eli Apple #24 of the New York Giants in the first half of a game at AT&T Stadium on September 10, 2017 in Arlington, Texas. (Photo by Ronald Martinez/Getty Images)
There were a lot of things wrong with the New York Giants this season, but Pro Bowl safety Landon Collins thinks one person is one of the biggest reasons why — cornerback Eli Apple.
As noted by ESPN's Ian O'Connor via Twitter, Collins, who was placed on injured reserve Tuesday, called Apple a "cancer" during a radio interview with Bob Wischusen.
Apple, a former No. 10 overall pick in 2016, called out interim head coach Steve Spagnuolo after playing zero snaps from the cornerback position and only seeing action on special teams.
"It was a coach?s decision. That?s all I have to say. Ask the coach, man. Have a good one," Apple told reporters when asked about being benched on Sunday.
Apple led all defensive backs with nine solo tackles and played 60 of 68 snaps during the Giants' Week 15 loss to the Philadelphia Eagles, which leads many to speculate that his benching was due to off-field issues.
?He was going to get in there on some dime situations,?? Spagnuolo told reporters after the game, via the NY Post. ?The guys that have been in there have been playing together for a little bit, the continuity has been good, so we just kinda of left it at that. Probably need to get him in there.??
What to do with the seemingly disgruntled cornerback will be one of many priorities for New York's net general manager this offseason.