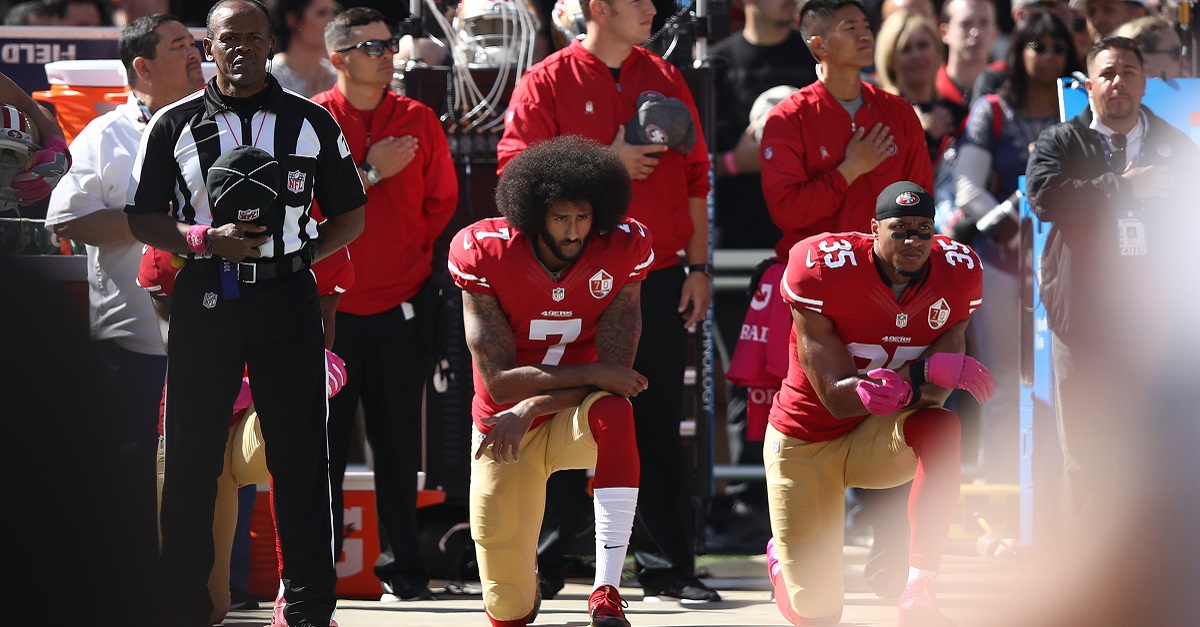 Ezra Shaw/Getty Images
SANTA CLARA, CA - OCTOBER 23: Eric Reid #35 and Colin Kaepernick #7 of the San Francisco 49ers kneel in protest during the national anthem prior to their NFL game against the Tampa Bay Buccaneers at Levi's Stadium on October 23, 2016 in Santa Clara, California. (Photo by Ezra Shaw/Getty Images)
According to Brian Calloway of The Lansing State Journal, four Lansing Catholic High School football players are being benched for their Friday night football game against Ionia.
The demotion comes after the players planned to take a knee during the National Anthem, a protest made famous by former San Francisco 49ers' quarterback Colin Kaepernick — who has since faced the consequences of taking a knee himself as Kaepernick is no longer in the NFL.
Per Calloway's reporter, quarterback Michael Lynn III and three others players — Matthew Abdullah, Kabbash Richard and Roje Williams — have all been benched by Cougars head coach Jim Ahern.
Lynn, a team captain, spoke about the matter with the Lansing State Journal.
"I get they are a private school and they can do what they want," Lynn III said. "They are right, they can. But that doesn't make it humane and that does not make it OK that they can do that because that still is my right to peaceful protest. Not only am I peaceful protesting, but I'm protesting as a primary source. I am a young black man in America. I've had to deal with certain things that other people will never have to deal with.
I said this in the meeting (with the school). I said this feels like oppression. This feels like you're trying to silence me and it feels like you're not giving me the right to do what Americans should be able to do."
Lynn is right on both accounts. As an American, he does have the right to peacefully protest whatever he wants. He's also right in saying that Lansing Catholic has the right to bench him as a private school.
As Kaepernick has found out, the freedom to respond however you please doesn't necessarily protect you from facing consequences, especially when dealing with private organizations.
It may not feel right or "humane" as Lynn called it, but it's a harsh truth.
The school did provide a letter explaining the situation.
"After much prayer and reflection; in consultation with our Board of Trustees, with the Superintendent of the Diocese, with administrators at other Catholic schools, and with law enforcement, we will continue to hold our student-athletes to the expectation that they stand for our National Anthem," a letter sent by Maloney said.

"Any student-athlete who chooses not to stand will receive consequences. As always, this will be handled with Christian Charity, with the goal of growth in virtue."
Per Calloway, neither the head coach or the school president, President Tom Maloney, commented on the matter.