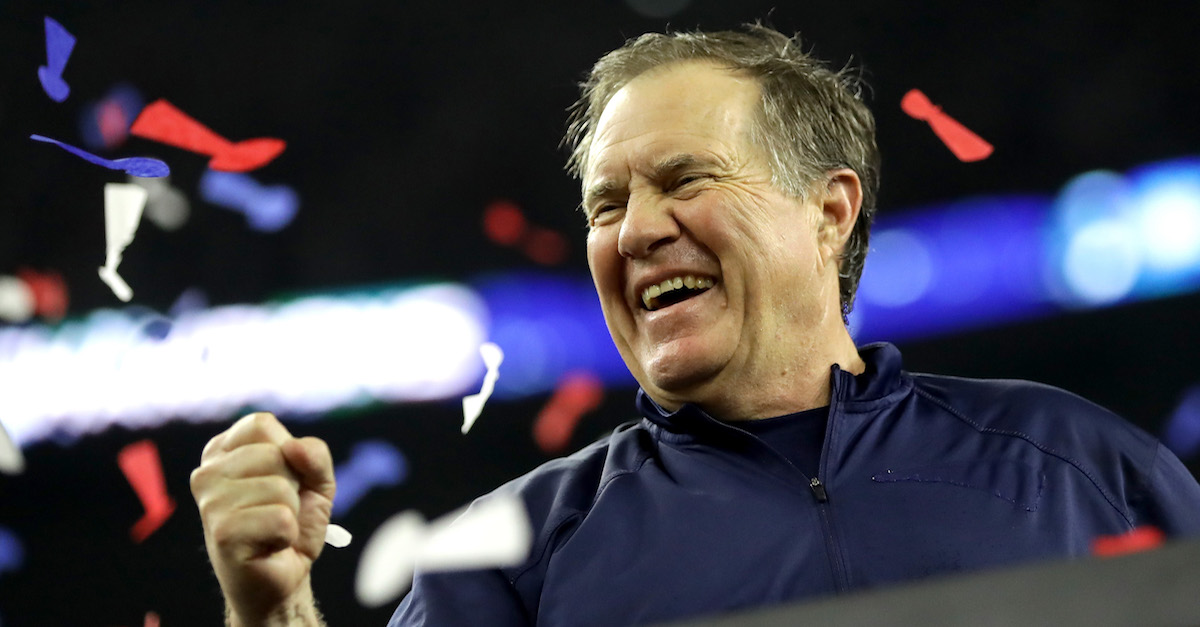 Ronald Martinez/Getty Images
HOUSTON, TX - FEBRUARY 05: Head coach Bill Belichick of the New England Patriots celebrates after defeating the Atlanta Falcons during Super Bowl 51 at NRG Stadium on February 5, 2017 in Houston, Texas. The Patriots defeated the Falcons 34-28. (Photo by Ronald Martinez/Getty Images)
The New England Patriots have had quite the busy offseason, and if this mock draft's predictions come true, Bill Belichick and Co. aren't close to being finished.
The Patriots have a valuable asset in backup quarterback Jimmy Garoppolo, though they have maintained the stance that they aren't trading him. The Pats also want Seattle Seahawks cornerback Richard Sherman, but they can't afford the asking price at the moment because they don't have a first or second round pick in this year's draft.
Related: If Patriots lose one of their best players, they may look to immediately reload with one of the game?s elite
In Will Brinson's latest mock draft for CBS, he has the Patriots making a huge move for Sherman while also dealing Garoppolo.
Brinson has the Patriots trading Garoppolo to the Cleveland Browns for the No. 12 overall pick, and the Pats rerouting that pick to the Seahawks for Richard Sherman. The Seahawks would also receive a conditional fourth round pick in the 2018 draft. The Patriots would also get a second round pick from the Browns, which is the No. 33 pick overall.
So, the Patriots would get a player they covet in Sherman, while also getting basically the equivalent of a first round pick in pick No. 33. The Seahawks get a top 12 pick for Sherman, which is great value considering they drafted him with the No. 154 pick overall in the fifth round of the 2011 NFL Draft.
The Browns get their franchise QB in Garoppolo, who is more equipped to start Day 1 than any QB in the upcoming draft. The trade is likely a long shot, but all teams involved get something they need and want. Seattle might require a bit more for Sherman, but the No. 12 overall pick would be a great start.
If the Patriots do get Sherman in a deal like this, they will also likely trade CB Malcolm Butler for a first-round pick .
(h/t CBS Sports)