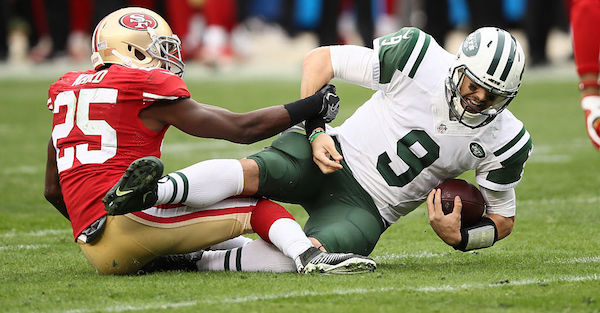 Ezra Shaw/Getty Images
SANTA CLARA, CA - DECEMBER 11: Jimmie Ward #25 of the San Francisco 49ers sacks Bryce Petty #9 of the New York Jets during their NFL game at Levi's Stadium on December 11, 2016 in Santa Clara, California. (Photo by Ezra Shaw/Getty Images)
There are several teams in need of a franchise quarterback prior to April's NFL Draft, and there are plenty of quarterbacks available.
Those QB-needy teams will have to decide whether quarterbacks such as Deshaun Watson, Mitchell Trubisky, Patrick Mahomes and DeShone Kizer are worth first round picks, and even if they aren't, they might have to reach and draft one early simply because so many teams need a QB.
Related: ESPN?s Mel Kiper has some hefty criticisms about Deshaun Watson
In CBS Sports' latest mock draft, R.J. White predicts several trades between teams who need quarterbacks?some of which are aggressive, and some of which are safer.
The first big move White predicts is Cleveland trading up to No. 6 from No. 12 with the New York Jets to draft Trubisky. The Browns currently have the No. 1 and No. 12 picks, and White has them selecting Myles Garrett with the first pick. Trubisky is from Ohio, and he wants to play for the Browns. If Cleveland thinks he's the best QB prospect in this draft, this move makes some sense considering they have two first round picks.
That leaves the Jets with the No. 12 pick. However, White has the Jets trading back again with the Houston Texans for the No. 25 overall pick, and he has the Texans drafting Mahomes at No. 12. Mahomes has risen up draft boards in recent weeks, and his mobility and strong arm are alluring for NFL teams.
So the Jets have traded back twice, and they've likely stockpiled a plethora of picks. White also has them addressing their QB issue by drafting Deshaun Watson at No. 25. The move would make sense for the Jets, and they could end up with the best QB in the draft despite trading down twice.
It's unlikely the draft works out this way?it would be odd to see three QB-needy teams play musical chairs in the first round?but not altogether impossible considering all three teams need a quarterback. Trubisky, Watson and Mahomes are considered the top QBs in this draft in some order, and at least two will be expected to come off the board on Day 1 of the draft.
(h/t CBS Sports)