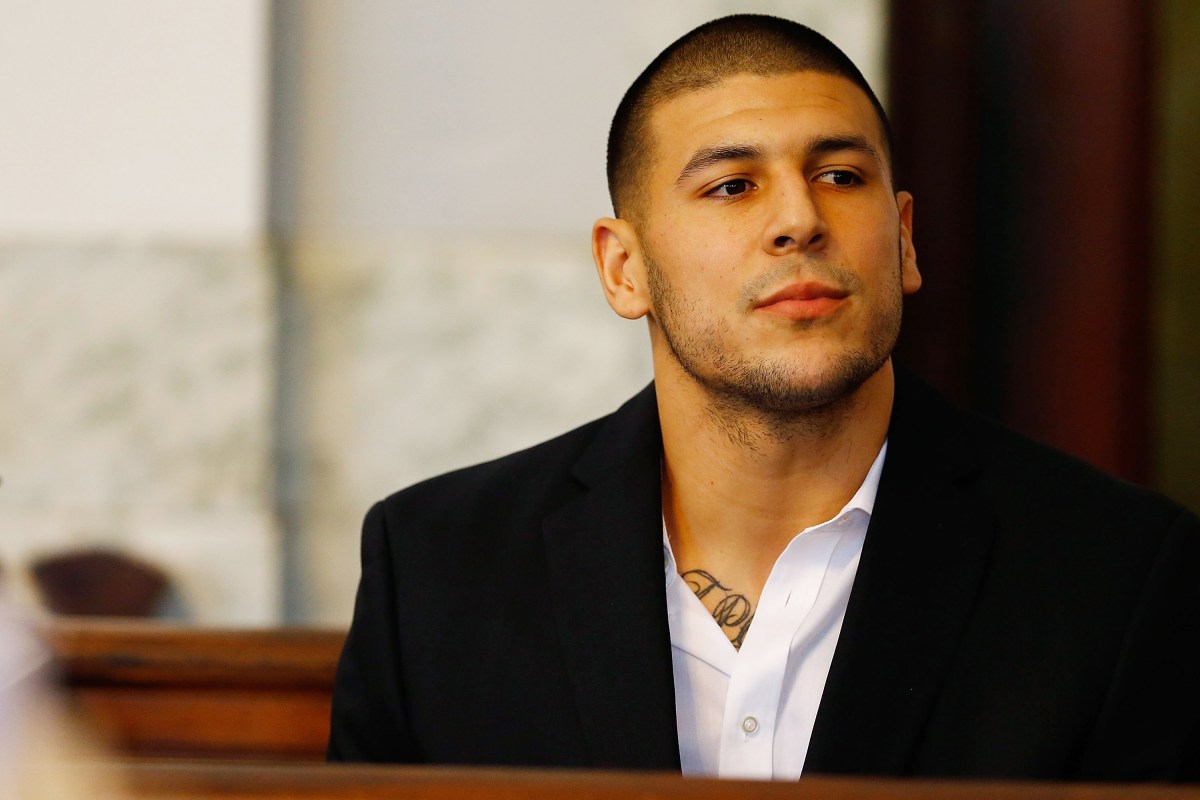 Jared Wickerham/Getty Images
NORTH ATTLEBORO, MA - AUGUST 22: Aaron Hernandez sits in the courtroom of the Attleboro District Court during his hearing on August 22, 2013 in North Attleboro, Massachusetts. Former New England Patriot Aaron Hernandez has been indicted on a first-degree murder charge for the death of Odin Lloyd. (Photo by Jared Wickerham/Getty Images)
Lawyers for the families of Daniel de Abreu and Safiro Furtado, the two men who were killed in a drive-by shooting, are calling on the New England Patriots to compensate the families of the two men Aaron Hernandez was accused and acquitted of murdering, per the Boston Globe.
?We would welcome the Patriots looking into that issue and doing the right thing, which is to compensate the victims,? said Kenneth Kolpan, a lawyer for the family of Daniel de Abreu

"I think they?re in a position to do that,? Kennedy said. ?That would be welcome.?
The request comes in a wrongful death lawsuit against Hernandez. It follows another wrongful death suit against Hernandez's estate by Ursula Ward, the mother Odin Lloyd, after Hernandez was found guilty of killing her son.
A judge vacated Hernandez's first-degree murder conviction in the Lloyd case because the former NFL star died before his appeals were exhausted.
State law, according to Hernandez's estate's lawyer, prohibits plaintiffs from collecting punitive damages because the he has since passed away.
The battle over the money isn't unexpected, but there are tons of questions, including:
Is Hernandez?s estate entitled to the $3.5 million in bonus money the Patriots withheld after they cut him following his arrest in the Odin Lloyd case?
Will the Patriots be entitled to repayment of all monies paid to Hernandez until the 2012 contract?
Will the Patriots have to pay Hernandez?s guaranteed salaries in 2013 and 2014?
The Patriots, according to PFT, believe they?re in the right because Hernandez had allegedly committed two murders before the former tight end signed his seven-year contract extension on 2012.
The NFLPA could argue that Hernandez earned the payments, and the Patriots acted before the NFL handed down any discipline.
Hernandez, the former pro and college star, killed himself in prison after being found innocent in a double murder trial. As a result of his death, a Massachusetts court vacated his murder conviction because he can no longer participate in his appeal.