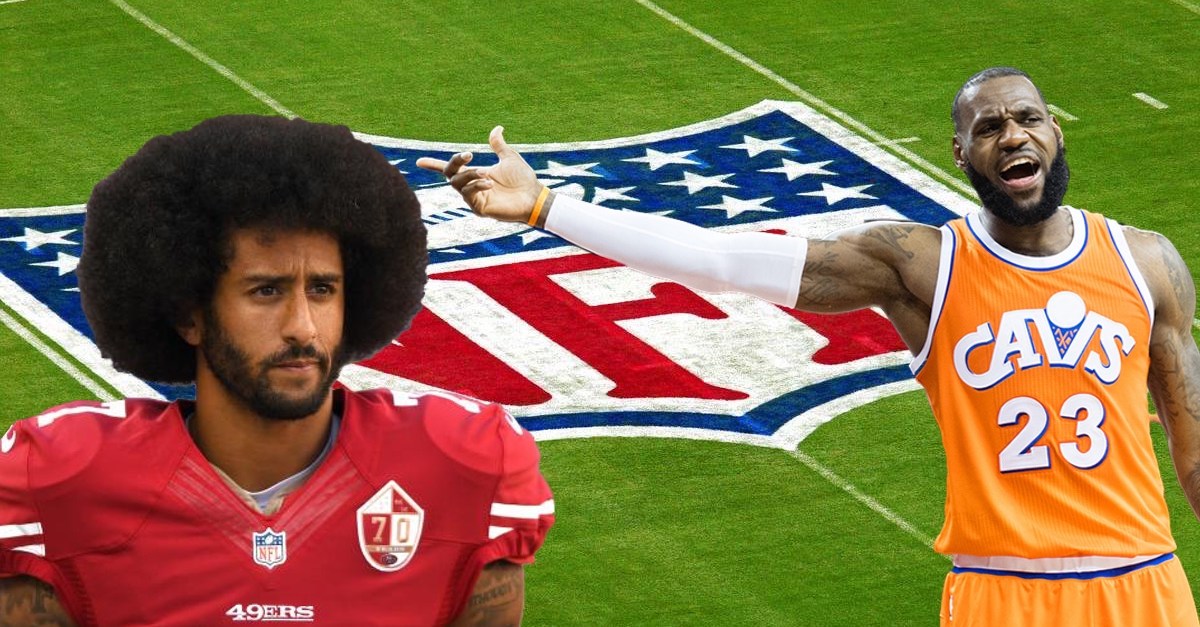 Cleveland Cavaliers forward LeBron James is among those who believe Colin Kaepernick is being blackballed by the NFL after popularizing player protests during the national anthem.
"I love football, but I'm not part of the NFL," James told ESPN following the Cleveland Cavaliers' practice Sunday. "I don't represent the NFL. I don't know their rules and regulations. But I do know Kap is getting a wrong doing. I do know that. Just watching, he's an NFL player. He's an NFL player and you see all these other quarterbacks out there and players out there that get all these second and third chances that are nowhere near as talented as him. It just feels like he's been blackballed out of the NFL. So, I definitely do not respect that."
Kaepernick agreed to a six-year, $136 million contract with the San Francisco 49ers after a breakout season in which he led the franchise to a Super Bowl appearance, which included throwing for 302 yards, one touchdown and one interception, while also rushing for 62 yards and a score during a loss to the Baltimore Ravens in the championship game.
However, he opted out of his contract last March and has been bypassed by NFL teams while more than 40 other quarterbacks have signed contracts in that span.
"The only reason I could say he's not on a team is because the way he took a knee," James said. "That's the only reason. I watch football every Sunday, every Thursday, every Monday night. I see all these quarterbacks — first-string, second-team, third-team quarterbacks — that play sometimes when the starter gets hurt or are starters that play. Kap is better than a lot of those guys. Let's just be honest."
Earlier this week, James shared a photo of Kaepernick on the latest cover of GQ on his Instagram account, which featured an article crediting the quarterback as the "Citizen of the Year."
The former MVP also claimed that he would "sign him today" if he owned an NFL team during the Cavs media day in September.
Kaepernick, 29, remains a free agent after spending his first six seasons with the 49ers. The former starter gained national attention last season for his decision to kneel during the national anthem as a form of protesting social injustice.
Several teams have passed on Kaepernick this offseason as many consider him to be a potential distraction given his constant media coverage. While he's struggled since his breakout Super Bowl season, there's little argument that the former 49ers starter isn't a better option than many of the backups signed since the offseason.