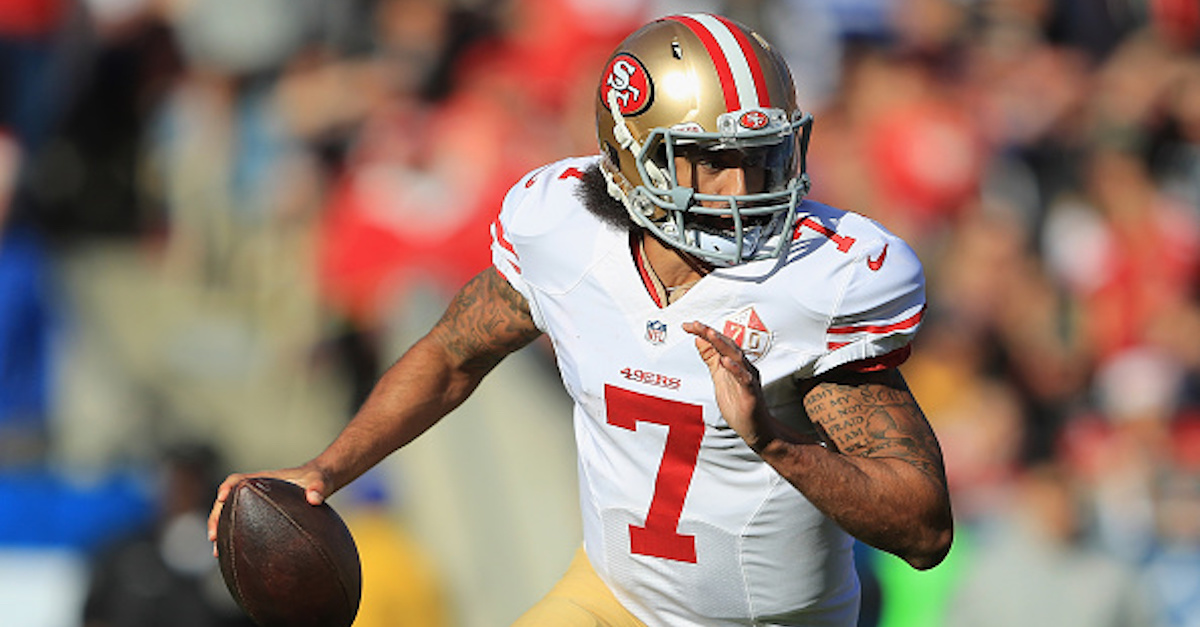 Sean M. Haffey/Getty Images
LOS ANGELES, CA - DECEMBER 24: Colin Kaepernick #7 of the San Francisco 49ers scrambles during the first half against the Los Angeles Rams at Los Angeles Memorial Coliseum on December 24, 2016 in Los Angeles, California. (Photo by Sean M. Haffey/Getty Images)
Colin Kaepernick has a ton of support from current and former players when it comes to whether he should have employment in the NFL. On Thursday, though, it became clear that Buffalo Bills running back and five-time Pro Bowl selection LeSean McCoy is not a member of that contingent.
McCoy, in speaking to the media, indicated that Kaepernick isn't worth the "distraction" that comes with signing him at this point.
"It's a lot more than just he's not on the team because he doesn't want to stand for the national anthem. That may have something to do with it, but I think also it has a lot to do with his play. I'm sure a lot of teams wouldn't want him as their starting quarterback. That chaos that comes along with it, it's a lot.

"As a team, trying to win and not have a distraction on the team, I just take that as a player — there's certain players that could be on the team with big distractions, and there's other players that it's not good enough or not worth it. I think his situation is not good enough to have him on the team with all the attention that comes along with it. I'm sure if a guy like [Tom] Brady or a guy like whoever is your favorite player — Odell Beckham or a guy like that — you'll deal with that attention and play him."
Beyond his general comments about Kaepernick (which are sure to create a firestorm), he also indicated that former teammate and retired quarterback Mike Vick is "10 times better" than Kaepernick and that the younger quarterback isn't "really that good (enough) of a player to deal with."
Make no mistake, there is a large segment of the country that appears to feel this way and that might extend to quite a few decision-makers in the NFL. Still, it is noteworthy and jarring to see a current, respected player sounding off in this way and the reaction will be quite interesting.