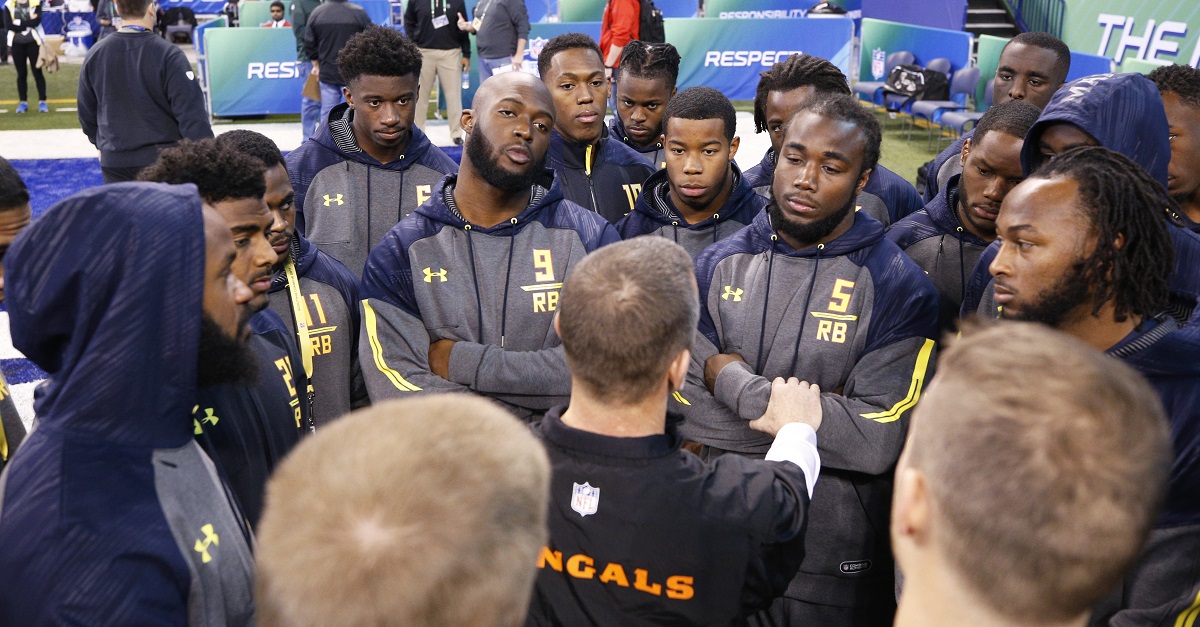 Joe Robbins/Getty Images
INDIANAPOLIS, IN - MARCH 03: Running backs Leonard Fournette of LSU and Dalvin Cook of Florida State listen with a group of players during the NFL Combine at Lucas Oil Stadium on March 3, 2017 in Indianapolis, Indiana. (Photo by Joe Robbins/Getty Images)
The running backs have been the most talked about group of players in this year's NFL Draft and there's been talk about do-it-all back Christian McCaffrey jumping up boards. While some people don't believe he's better than Florida State running back Dalvin Cook, his background is a lot cleaner.
RELATED: Stock for Dalvin Cook plummeting based on one recent mock draft
It's looking like McCaffrey is becoming a top ten pick lock as well as Greg Gabriel tells us:
Gabriel is a 30-year NFL scout and was the scouting director for the Chicago Bears for almost a decade so his word can be trusted. The Panthers definitely need a running back and almost every mock draft has the Jacksonville Jaguars drafting Leonard Fournette at No. 4 so he won't be available to Carolina at No. 8.
Jonathan Stewart and Fozzy Whitaker were really the only effective running backs last year and Stewart is going to be on the wrong side of 30 this season. McCaffrey can be effective as a receiving option out of the backfield as well as a kick returner if Carolina wants to go down that path.