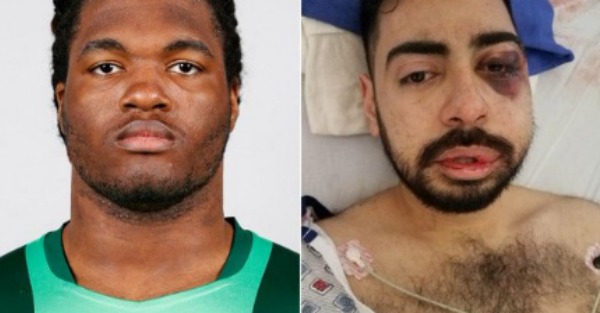 New York Post Twitter
New York Jets linebacker Lorenzo Mauldin has been arrested on suspicion of assault, a misdemeanor, after a New York man alleged the football player beat him up, according to a report on TMZ.com.
Mauldin turned himself into police, TMZ reported, and he faces up to a year in jail if convicted.
The arrest comes after Jean Lopez, of Queens, NY., field a civil lawsuit against Mauldin, alleging that the linebacker beat him outside of a nightclub over spilled champagne, according to a report in the New York Post.
Lopez alleges he was pummeled black and blue. The Post said Lopez spilled champagne on a man, and was then twice punched in the face outside of a New York City nightclub. Lopez's attorney, Glenn Race, said his 5-foot-7, 145 pound client suffered facial fractures that needed surgery to fix.
The Post reported Lopez filed a complaint with police following the incident, saying he was punched once in the eye and once in the jaw, but couldn't identify his attackers.
Mauldin, 24, a 6-foot-4, 259 pound linebacker, is entering his third season with the Jets.