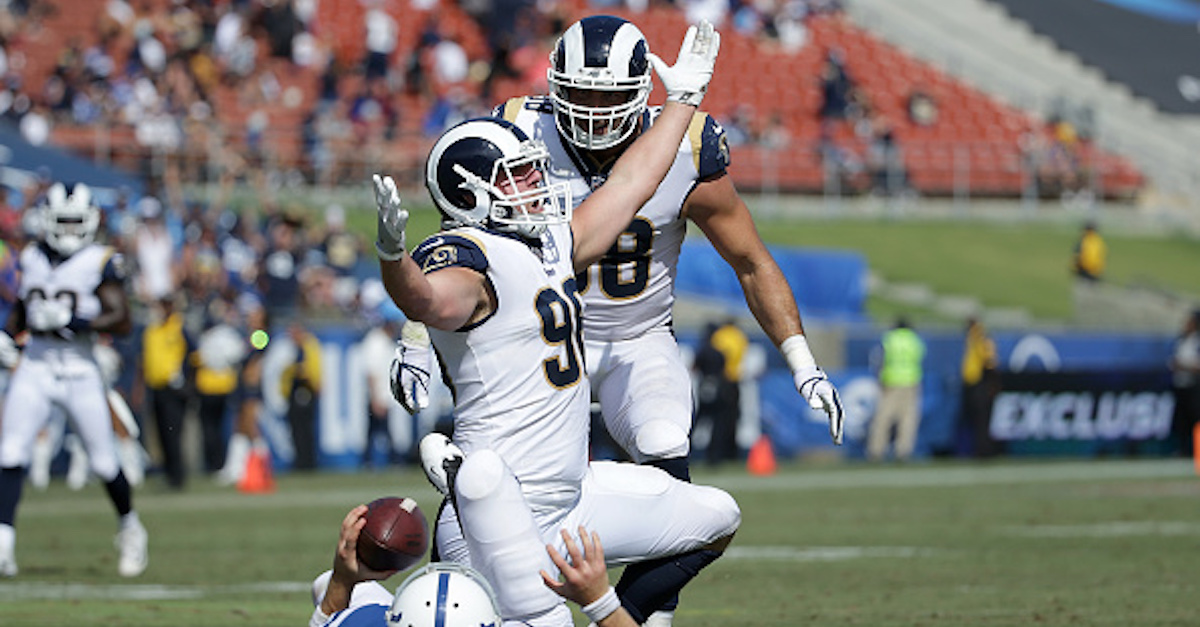 Photo by Jeff Gross/Getty Images
LOS ANGELES, CA - SEPTEMBER 10: Matt Longacre #96 of the Los Angeles Rams celebrates after sacking Scott Tolzien #16 of the Indianapolis Colts during the fourth quarter at the Los Angeles Memorial Coliseum on September 10, 2017 in Los Angeles, California. (Photo by Jeff Gross/Getty Images)
The NFL, for as big of a league as it is and for as popular as the game of football is in the United States, is certainly not the smartest run organization of all time.
Commissioner Roger Goodell is often the subject — and the butt — of jokes and when the league isn't obsessed with being the "No Fun League", it seems to continuously find ways to upset its fans.
The most recent examples have been focused on relocation, and specifically, the NFL's desire to make California a hot bed of football. The league okayed the Rams moving from St. Louis — a rather rabid sports town — to Los Angles, a town not necessarily known to be rabid for anything but itself. The league also felt that moving the Chargers two hours up the road to Los Angeles seemed to make sense.
Again, this despite the fact that Los Angeles is known as anything but a football town. So why not put two teams there, right?
The last questionable decision has been less high profile, but as we saw in Week 1, there have been ramifications. The NFL approved the San Francisco 49ers building their new stadium in Santa Clara, which is 45 minutes to an hour south of the actual city of San Fransico.
Taking a team away from its namesake is usually never a good idea, and in general, the NFL seems to be a bit worried about the fan reaction to some of these recent moves.
In fact, fans simply aren't showing up in Los Angeles or in San Francisco.
Here's Ian Rapoport:
Photo evidence from both the Rams' and 49ers' opening weekend clashes have been damning. Sure, neither team is expected to be incredible in 2017-18, but having this many empty seats for the opening weekend of play? This is a terrible look:
The Rams are 1-0 after beating an Andrew Luck-less Indianapolis Colts team so not much good can be truly taken out of that win. The 49ers, on the other-hand, lost to Carolina, 23-3.
These are two mediocre teams in mediocre situations. One is playing 45 minutes away from the city it represents, and the other has been shoe horned into a deal to bring two franchises to play in a city that previously wasn't 100-percent bought into one.
The NFL doesn't look good in either situation. Winning and playing great football may cure a lot of those issues, but it's hard to hide the fact that the NFL perhaps took this whole relocation thing a bit too far.