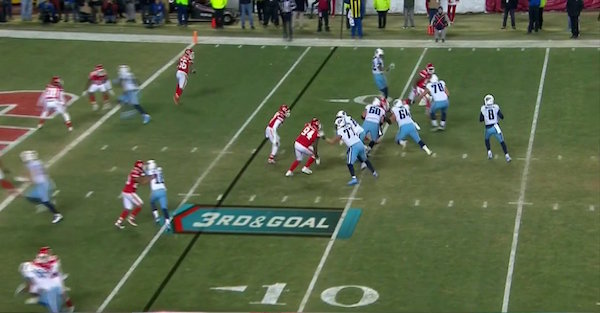 @NFL/Twitter
@NFL/Twitter
It took three quarters, but the Tennessee Titans' offense finally woke up in their Wild Card round game of the NFL Playoffs against the Kansas City Chiefs after Marcus Mariota completed a touchdown pass to…Marcus Mariota.
That's right, the quarterback caught his own deflected pass before diving into the end zone to cut the Chiefs' lead to 21-10.
https://twitter.com/NFL/status/949787075565400064/
Tennessee added another score as Derrick Henry scored on a 35-yard touchdown in the fourth quarter. The Titans currently trail Kansas City, 21-16, with 6:55 remaining in the fourth quarter.