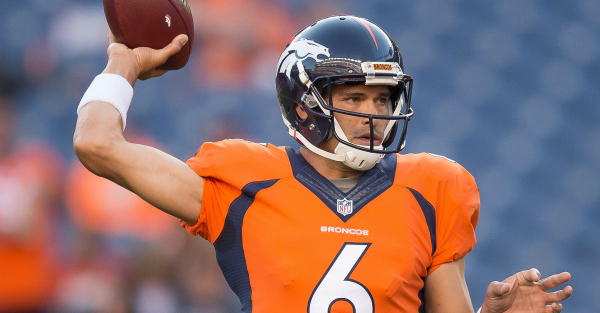 Dustin Bradford/Getty Images
Quarterback Mark Sanchez of the Denver Broncos throws as he warms up before a preseason NFL game at Sports Authority Field at Mile High on August 20, 2016 in Denver, Colorado. (Photo by Dustin Bradford/Getty Images)
Mark Sanchez came to the Denver Broncos as the seasoned veteran who was favored to win the starting quarterback position. In just two preseason games, Sanchez seems to have played so poorly, he's not just being sent to the bench, he's likely on his way out of Mile High.
RELATED: Mark Sanchez is playing like Mark Sanchez, and that?s bad news for the Denver Broncos
Trevor Siemian started, rookie Paxton Lynch played the back up role but Sanchez could only be found on the sideline in a preseason game widely recognized as the most important. As Adam Shefter notes, if Sanchez is the odd man out, cutting him could be beneficial.
If Denver is as patient are they are smart, they could bait Dallas into trading for him, now that they've lost their franchise quarterback for six to 10 weeks.
Sanchez, a former first-round pick in 2009, has never lived up to his draft position, completing just 56.7 percent of his passes and nearly throwing more interceptions (84) than touchdowns (86) over his six-year career. In two preseason games, Sanchez has completed 66.6 percent of his passes but produced just one touchdown to three turnovers.
[h/t Fox Sports]