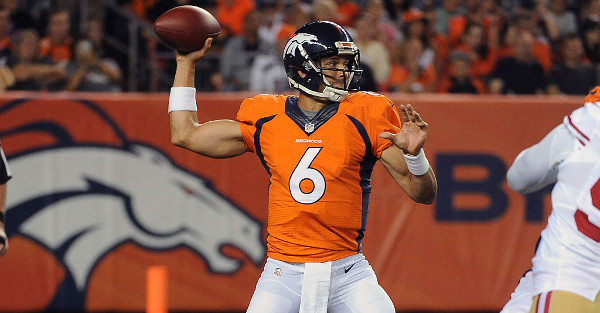 Steve Nehf/Getty Images
Broncos quarterback Mark Sanchez lost two fumbles Saturday night against the 49ers. To his credit, they weren't of the "butt" variety, but even Sanchez knows when he's messed up royally.
RELATED: Knowing he's got garbage depth at QB, John Elway takes a clear shot at his gunslingers
?It?s difficult playing like crap on two plays and ruining an opportunity. That?s difficult,? Sanchez said, according to Pro Football Talk.
The two fumbles aside, Sanchez didn't have the worst game ever, going 10-of-17 for 120 yards and zero interceptions. His fear of "ruining an opportunity" may not be an overreaction, though.
It wasn't too long ago that Denver decided to name Sanchez and Trevor Siemian as co-starters. With less than three weeks to go before the start of the regular season, dark horse QB Paxton Lynch could leap frog everyone as the starter.
?He?s always been in the mix,? coach Gary Kubiak said of Lynch after Saturday's game. ?I just told you guys that he?s behind the other two from a knowledge standpoint, but we?ve been out there competing every day. Everybody is in competition to play.?
Lynch played well for the second straight week, completing 15 of 26 passes for 113 yards, two touchdowns and one interception. What more does one have to do to move up the depth chart?
?I?m going to play the guy that I think is best for our team,? Kubiak said. ?We have three guys out there battling. Obviously [Lynch] is a young kid. He did some really good stuff tonight. He made some mistakes, too."
Siemian started Saturday night, going 10-of-14 for 75 yards and an interception.
[h/t Pro Football Talk]