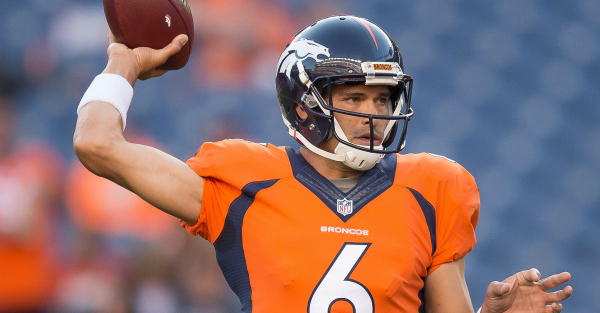 Dustin Bradford/Getty Images
Quarterback Mark Sanchez of the Denver Broncos throws as he warms up before a preseason NFL game at Sports Authority Field at Mile High on August 20, 2016 in Denver, Colorado. (Photo by Dustin Bradford/Getty Images)
Mark Sanchez has gone from a potential Peyton Manning successor to a potential third stringer in four months.
Sanchez, the former New York Jets starter, has performed so poorly in camp for the Broncos that he may be behind both former Manning backup Trevor Siemian and rookie Paxton Lynch on the depth chart.
Related: John Elway lost a Hall of Fame quarterback but says the Broncos are better
ESPN reports Siemian will start Denver's next preseason game and looks like the presumptive starter for the first regular season game. Siemian, who's entering his second season, played only briefly in one game last season and didn't attempt a pass.
The Broncos drafted Lynch out of Memphis in the first round last year, and he looks to be the team's quarterback of the future. But when Lynch was drafted in April, the team figured Sanchez would be the better short-term solution.
Sanchez's play in preseason hasn't done anything to set him apart from Lynch. He has thrown for 219 yards through two quarters of play in preseason games with one touchdown and one interception. He fumbled two snaps in a preseason game against San Francisco last weekend. Lynch has thrown for 187 yards, two touchdowns and one interception and hasn't fumbled.
Sanchez admitted after Denver's last game that he's played poorly, via ESPN:
"I squandered a great opportunity to separate myself and put the team in a bad situation," Sanchez said. "No excuse for that poor, poor quarterback play."
Denver head coach Gary Kubiak said all three quarterbacks will play an equal amount of time in the team's next preseason game, which is Saturday against Los Angeles.