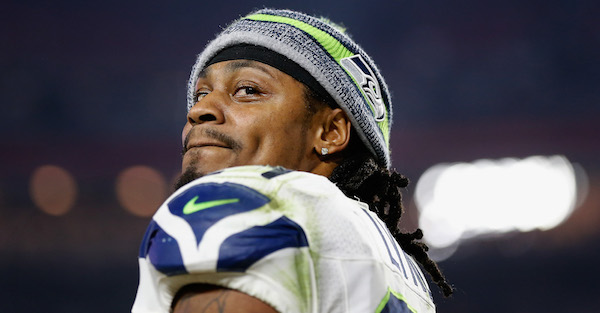 Christian Petersen/Getty Images
GLENDALE, AZ - DECEMBER 21: Running back Marshawn Lynch #24 of the Seattle Seahawks looks up to the fans as he stands on the sidelines during the NFL game against the Arizona Cardinals at the University of Phoenix Stadium on December 21, 2014 in Glendale, Arizona. The Seahawks defeated the Cardinals 35-6. (Photo by Christian Petersen/Getty Images)
The Oakland Raiders have expressed interest in signing retired running back Marshawn Lynch, and Lynch is doing his part to add fuel to the fire.
Related: Marshawn Lynch?s latest reported request adds a shocking layer to return rumors
Eric Thut tweeted out a playlist Lynch had made on Spotify that included the song "Oakland Raiders" by Luniz.
Lynch retweeted the tweet, which has added to the speculation that he could return next season with his hometown Raiders.
The playlist was created on Sept. 3, 2015, but the fact that Lynch retweeted this weekend will have fans wondering about his possible return. He last played in the 2015 season with the Seattle Seahawks, but he will be 31 years old next season and he still might have a quality year or two left in him.
Lynch rushed for 9,112 yards and 74 touchdowns in nine seasons with the Seahawks and the Buffalo Bills.
(h/t Pro Football Talk)