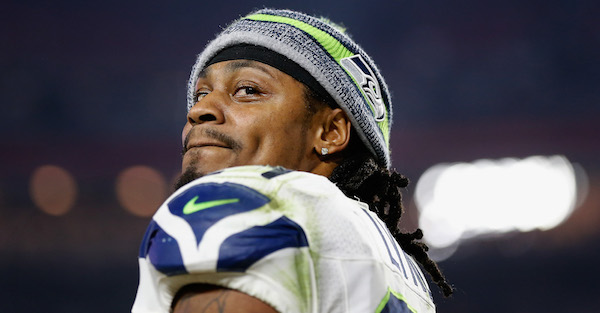 GLENDALE, AZ - DECEMBER 21: Running back Marshawn Lynch #24 of the Seattle Seahawks looks up to the fans as he stands on the sidelines during the NFL game against the Arizona Cardinals at the University of Phoenix Stadium on December 21, 2014 in Glendale, Arizona. The Seahawks defeated the Cardinals 35-6. (Photo by Christian Petersen/Getty Images)
Marshawn Lynch played in the NFL for 10 seasons before retiring during last year's Super Bowl.
As he makes his retirement tour, "Beastmode" shared a bit of advice to "60 Minutes Sports" as one of the most bruising running backs in recent memory.
People don't like getting hit, and for Lynch it's as simple as running "through a motherf****r's face."
Never change, Marshawn.