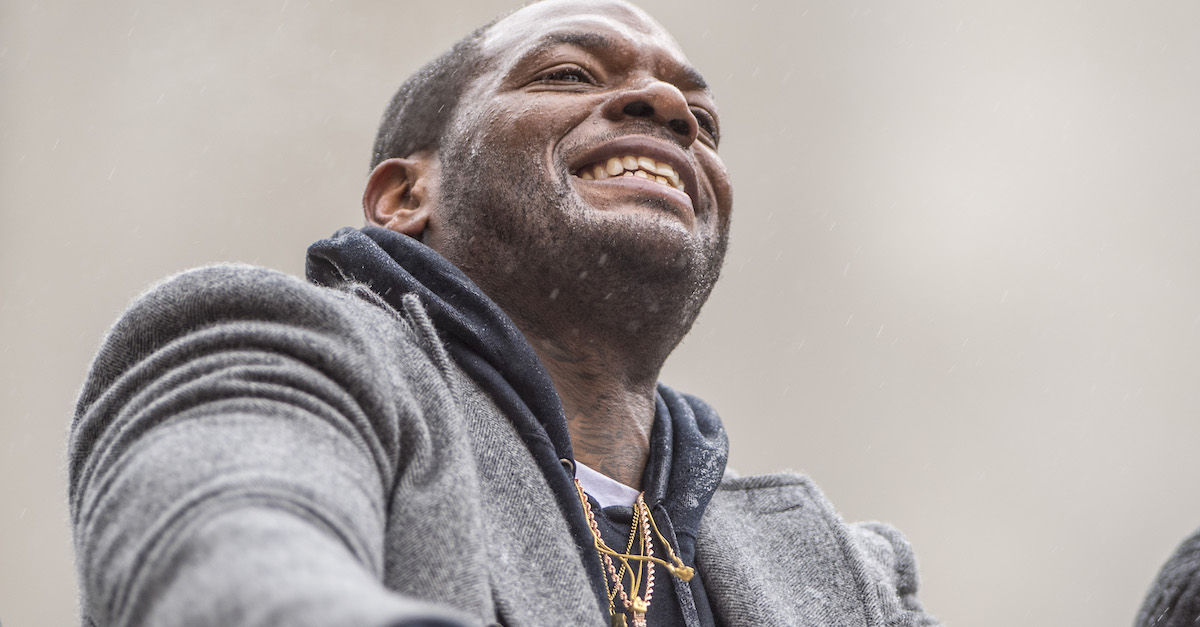 Billie Weiss/Getty Images
BOSTON, MA - FEBRUARY 07: Martellus Bennett of the New England Patriots celebrates during the Super Bowl victory parade on February 7, 2017 in Boston, Massachusetts. The Patriots defeated the Atlanta Falcons 34-28 in overtime in Super Bowl 51. (Photo by Billie Weiss/Getty Images)
Martellus Bennett is back with the New England Patriots, but that hasn't stopped him from throwing some serious shade at his former team, the Green Bay Packers.
Bennett, who left the Pats to join Green Bay this past offseason, posted an Instagram story denying reports that he failed to disclose a torn rotator cuff injury to the team, which led to his release earlier this week.
"The Packers examined my shoulder March 10 and cleared it," . "They even gave me an x-ray as well. It got worse during the season, specifically against the Cowboys so I asked to have it checked and we checked it. After a few days of contemplating to play with it or get surgery, I chose surgery. Now here we are. They tried to f— over me. Dr. McKenzie trying to cover his own ass. After trying to persuade me to play [through] a major injury and me choosing to get surgery.
"They have access to all my medical records. My shoulder wasn't where it is now at the beginning of the season. I f—d it up playing for the [Packers]. Dr. McKenzie didn't make [me] feel safe and was pushing to play which I thought was weird. Not that he was trying to get me to play [through] it, but the way he was saying things. I didn't trust him. So I got 3 other opinions from doctors who all said I need to get it fixed. So I decided to do that. And they decided to waive me with some bulls— excuse. Failure disclose.
"Every week we do a body evaluation sheet in the weight [room] and pretty much every week I circled my shoulder. I just kept playing but it got worse. During the bye week I got off anti inflammatories to clean my system and could really feel the pain. So I asked to examine it first day back in. And that's when we found out it was really f—d up. They knew.
"They panicked. Thinking that I was trying to go on IR and be on their books next year. When I mentioned that I would possibly retire. So they tried to f— me before they thought I would f— them. This was all about money. All about money. I get it. But don't lie homie. You knew wtf was up. C.R.E.A.M. [cash rules everything around me].
Bennett recorded 24 receptions for 233 yards during his only season with the Packers. He was claimed off waivers by New England one day after being released.
In 2016, Bennett recorded a career-best seven touchdowns, as well as 55 receptions and 701 yards, playing a key role in the team's Super Bowl run during his only previous season with the Patriots.
New England will inherit the tight end's three-year, $21 million contract that was reached with the Packers this past offseason. If the Pats decide not to pick up his $2 million bonus early in the next calendar year, Bennett will enter the free agent market once again, while the team will avoid having any commitments on its salary cap.