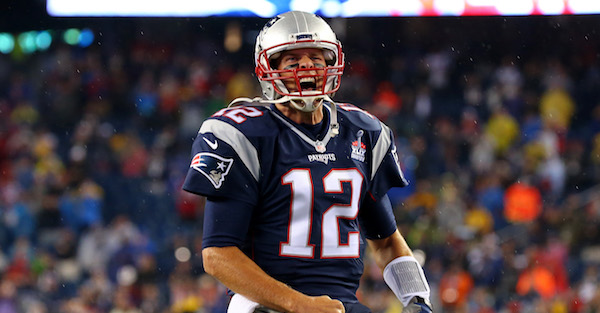 FOXBORO, MA - SEPTEMBER 10: Tom Brady #12 of the New England Patriots cheers as he runs on to the field before the game against the Pittsburgh Steelers at Gillette Stadium on September 10, 2015 in Foxboro, Massachusetts. (Photo by Jim Rogash/Getty Images)
The US court of appeals made a decision to support the NFL and reinstate quarterback Tom Brady's four-game suspension stemming from DeflateGate on Monday.
Naturally, that decision didn't sit well in Massachusetts, where the attorney general, Maura Healy, discussed how the league could have paid more attention to domestic violence issues rather than whether Brady deflated a football, per Boston Herald:
"My view remains that the NFL spent way too much time and energy and attention on this issue when it had missed the boat for a long time on the issues of domestic violence and sexual assault. That?s where I would like to see them focus their attention.?
Healy talked up the Patriots and owner Robert Kraft's work in that area — giving $1.5 million to a domestic and sexual prevention initiative — while also expressing disappointment in the court's decision.
Current NFL players, such as Greg Hardy and Junior Galette, have continued to lead successful careers despite accusations of domestic violence.