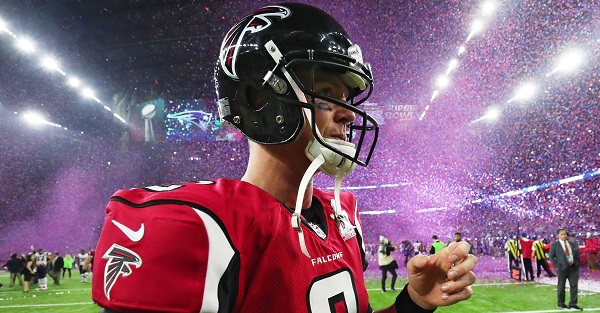 Tom Pennington/Getty Images
HOUSTON, TX - FEBRUARY 05: Matt Ryan #2 of the Atlanta Falcons walks off the field after losing 34-28 to the New England Patriots during Super Bowl 51 at NRG Stadium on February 5, 2017 in Houston, Texas. (Photo by Tom Pennington/Getty Images)
By now, every "28-3" joke has been made with regard to the Atlanta Falcons and their epic Super Bowl collapse in early February. Some of those references have to do with quarterback Matt Ryan, who played a part in the meltdown. On Monday, Ryan visited with D. Orlando Ledbetter of the Atlanta Journal-Constitution during his celebrity-amateur golf tournament and the veteran signal-caller revealed that he had an odd way of dealing with the loss.
In short, he kept watching it. Over. And over again.
?No, I watched it. I watched it a day after. I watched it two days after and I watched it three days after. For me, it was one of those things where you kind of want to be able to deal with it appropriately.
?Maybe, that?s different for everybody. Some people bury it away. Some people (do) whatever. ? For me it was ?all right, let?s watch. Does it feel the same way it felt as we were going through it???
This seems like a (very) strange way to deal with the grief of the worst loss in NFL history but Ryan apparently needed to be able to watch it on repeat for three days. It remains to be seen as to whether the Falcons, as a collective unit, can deal with the utter despair that comes with this sort of loss but Ryan has often been seen as a very steady influence and he seems to have put the loss behind him.
It might not matter in the grand scheme, but Matt Ryan did a very aggressive thing to get over the horror that happened in Houston.