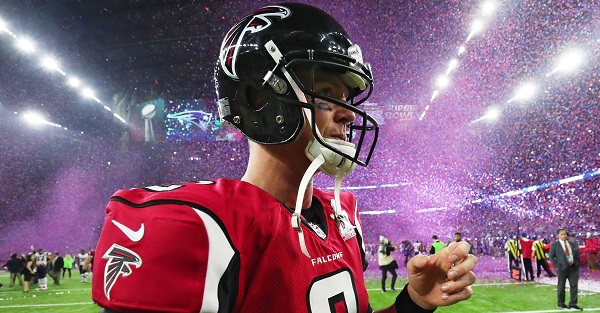 Tom Pennington/Getty Images
HOUSTON, TX - FEBRUARY 05: Matt Ryan #2 of the Atlanta Falcons walks off the field after losing 34-28 to the New England Patriots during Super Bowl 51 at NRG Stadium on February 5, 2017 in Houston, Texas. (Photo by Tom Pennington/Getty Images)
The Atlanta Falcons blew a 28-3 lead on the biggest stage in sports and, predictably, the team isn't quite over the level of disappointment that comes along with that happening in the Super Bowl. To that end, quarterback and reigning NFL MVP Matt Ryan gave a lengthy interview to Pete Prisco of CBS Sports and, while he was his normal, polished self, the veteran signal-caller didn't pull any punches when it came to one of the realities of what transpired.
In short, Ryan didn't have time to change play calls coming from offensive coordinator Kyle Shahahan, even if he saw the problem and recognized it.
"Kyle's play calls — he would take time to get stuff in. As I was getting it, you're looking at the clock and you're talking 16 seconds before it cuts out. You don't have a lot of time to say, 'There's 16 seconds, no, no, no, we're not going to do that. Hey, guys, we're going to line up and run this.' You're talking about breaking the huddle at seven seconds if you do something along the lines.

"With the way Kyle's system was set up, he took more time to call plays and we shift and motion a lot more than we did with (former coordinator) Dirk (Koetter). You couldn't get out of stuff like that. We talk about being the most aggressive team in football. And I'm all for it. But there's also winning time. You're not being aggressive not running it there."
It should also be noted that, within the piece, it is noted that head coach Dan Quinn would have had the ability to "veto" such play calls and did not do so. Still, Atlanta's willingness to continue throwing has been a hot topic since the collapse took place, especially with regard to a game-changing fumble that took place on a passing play with a 16-point lead and less than nine minutes remaining.
Ryan and his team will have the opportunity to make up for it in 2017 but the loss clearly still stings and some of the blame, quite obviously, goes to Shanahan.