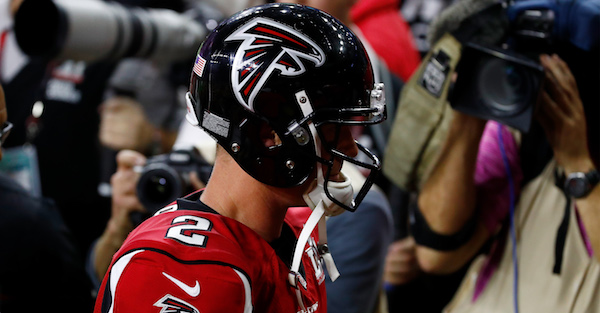 Gregory Shamus/Getty Images
HOUSTON, TX - FEBRUARY 05: Matt Ryan #2 of the Atlanta Falcons walks off the field after losing super bowl 51 to the New England Patriots at NRG Stadium on February 5, 2017 in Houston, Texas. The New England Patriots defeated the Atlanta Falcons 34-28. (Photo by Gregory Shamus/Getty Images)
The Atlanta Falcons had a 28-3 lead in the second half of Super Bowl LI, and they proceeded to run the ball a total of five times for the remainder of the game.
Related: Emotional Tom Brady broke down after beating Falcons for fifth Super Bowl ring
Apparently Falcons quarterback Matt Ryan had a message QB coach Matt LaFleur during the second half:
The Falcons even had a 28-20 lead with less than five minutes remaining in the game with the ball on the Patriots' 22-yard-line, and they proceeded to lose 23 yards over the next few plays and had to punt to New England. Ryan was sacked, and the Falcons were called for offensive holding on the next play.
Tom Brady led the Patriots on a furious comeback, and the Falcons completed the worst meltdown in Super Bowl history.