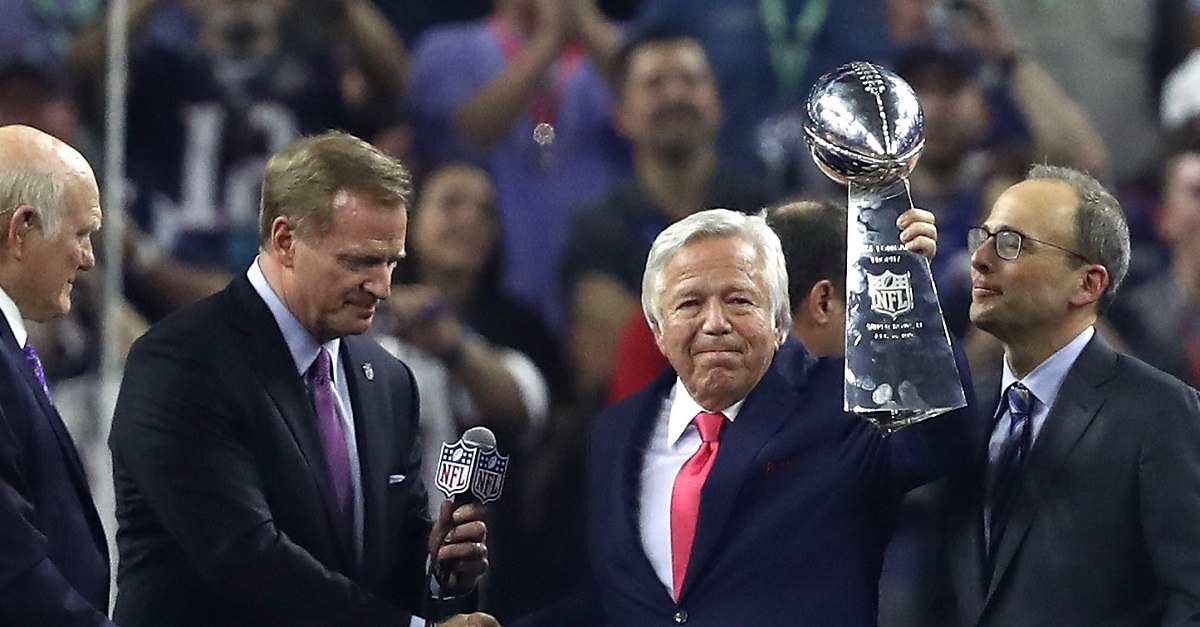 Elsa/Getty Images
HOUSTON, TX - FEBRUARY 05: NFL commissioner Roger Goodell hands the Lombardi Trophy to New England Patriots owner Robert Kraft after defeating the Atlanta Falcons during Super Bowl 51 at NRG Stadium on February 5, 2017 in Houston, Texas. The Patriots defeated the Falcons 34-28. (Photo by Elsa/Getty Images)
Many have already assumed the New England Patriots will repeat as Super Bowl champions in 2017.
In fact, there is a growing belief that the Pats could go undefeated after making numerous improvements to their roster this offseason, including acquiring wide receiver Brandin Cooks, defensive end Kony Ealy and cornerback Stephon Gilmore.
But New England isn't having any part of it, as multiple players noted the disrespectful tone of guaranteeing a 19-0 season to NESN on Wednesday.
?I honestly think it?s quite disrespectful to say some of the things that have been said about our football team to the other players and coaches in this league," special teamer Matthew Slater said. "We have to remember who we are. We have to remember that we?ve got to build this thing from the ground up and all we can worry about is what happens today. We can control today and then, you know, from there hopefully the good Lord wakes us up tomorrow and we?ll take care of tomorrow.?
Safety Devin McCourty echoed Slater's sentiments.
?To say before we even tackle somebody, throw a pass that we?re going to beat everybody on our schedule, I think that is kind of disrespectful to the work and what everyone is trying to put in to be a team,? McCourty said. ?Obviously every goal from every team is to not lose. You don?t go out there and plan to lose, but I think to not see anything from a team and say they?re going to win every game and disrespect every opponent on the schedule is kind of ludicrous. ?
New England completed a perfect regular season by going 16-0 in 2007, before losing to the New York Giants in Super Bowl XLII.
Much like then, several big offseason moves have an already loaded Pats team looking like a serious threat to make history in 2017.