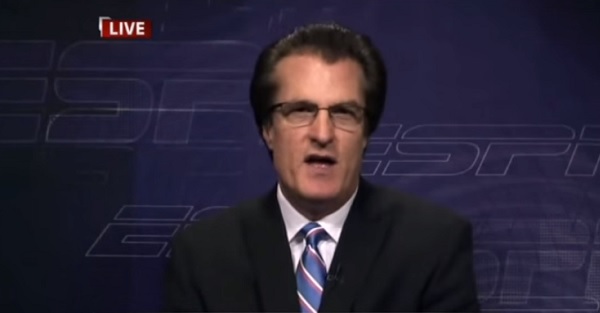 Screenshot/ESPN
Screenshot/ESPN
Mel Kiper is still the conductor of the Josh Allen hype train.
Kiper released his latest top-10 list for the upcoming NFL Draft on Wednesday, which once again has the former Wyoming quarterback listed as the No. 1 overall prospect.
Coincidentally, Allen remains atop Kiper's "big board" one day after a video of him hitting a goalpost crossbar from 50 yards away while kneeling went viral.
Allen has been dubbed as both the best quarterback prospect and biggest potential bust in this year's draft depending on who you ask, sometimes for the same reasons.
While many have looked at his ideal frame and strong arm as a plus, critics have viewed it as a distraction from the fact that he completed less than 60 percent of his passes.
Some have compared him to Philadelphia Eagles quarterback Carson Wentz due to their shared ties to Wyoming coach Craig Bohl and having played at a smaller program. Others believe that his lack of elite competition may be less enticing, while his sudden draft hype and ability to "throw well in shorts" is comparable to former draft busts like JaMarcus Russell and Kyle Boller.
Either way, Allen is sure to remain a hot topic leading up to April's draft. Only time will tell if the Cleveland Browns, who currently hold the No. 1 overall pick, share Kiper's view on the quarterback prospect.