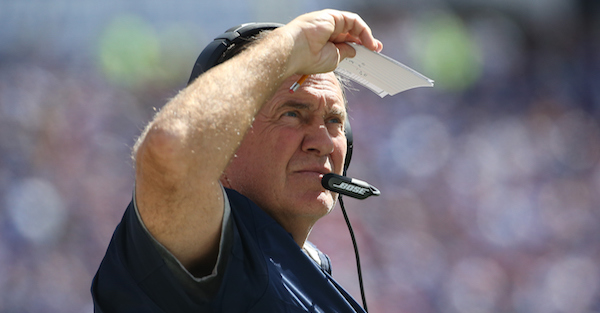 Tom Szczerbowski/Getty Images
ORCHARD PARK, NY - SEPTEMBER 20: Head coach Bill Belichick of the New England Patriots looks on from the sideline during NFL game action against the Buffalo Bills at Ralph Wilson Stadium on September 20, 2015 in Orchard Park, New York. (Photo by Tom Szczerbowski/Getty Images)
Back in October, NFL insider Albert Breer discussed a player the Patriots could ?eventually? move on from ? tight end Rob Gronkowski.
That idea seems to have trickled down to ESPN's Mel Kiper Jr., who has New England selecting Alabama's O.J. Howard at pick No. 32 in the NFL Draft.
Certainly that doesn't mean Gronk is moving on from Foxborough, but it could be a matter of time before the Patriots decide to cut ties.
Breer discussed Gronk?s partying and injuries as keys to him being a ?high maintenance? player. He also pointed out that the Patriots will put up with it while a player is still productive (ex. Randy Moss), but once he reaches that level, and his production doesn?t match his distractions, Breer believes the Patriots could eventually move on from him.
Breer again touched on that topic in December, hinting that the Patriots could look to cut ties sooner rather than later.
Even with his injury history, Gronk will still likely fetch an impressive haul of draft picks for the Patriots. It would be a bold move ? especially since Gronk still has three years and $24 million still left on his deal ? but Belichick has never shied away from making bold decisions.
Arguably the best tight end in NFL history when healthy, Gronk has suffered from ankle, knee, forearm and back injuries since entering the league, starting in 75 games over seven seasons (and a possible 112 games).