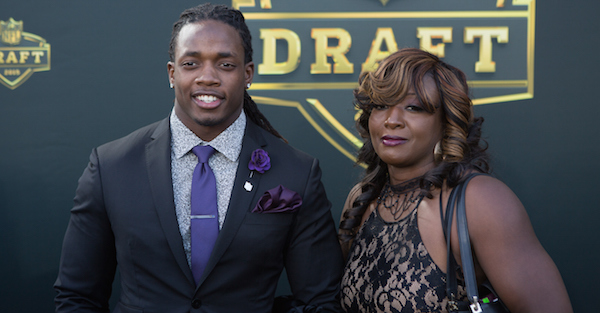 CHICAGO, IL - APRIL 30: Melvin Gordon from the Wisconsin Badgers and his mom Carmen arrive on the gold carpet for the first round of the 2015 NFL Draft at the Auditorium Theatre of Roosevelt University on April 30, 2015 in Chicago, Illinois. (Photo by Kena Krutsinger/Getty Images)
One of the top rookie running backs, and a ball-carrier who could challenge LaDanian Tomlinson's rookie rushing record, Melvin Gordon is entering his first year with the San Diego Chargers under massive expectations.
No media analyst or fan will be as tough a critic as Gordon's mom, as she explained in an ESPN report. As for her supporting her son, he'll have to earn that to. In order for her to wear his jersey, he's reportedly got to earn it:
?You?ve got to show me a little something, but it won?t be this year,? she said. ?So you might see me in the stands, but I won?t have the jersey on. I did the same thing in college because I just want to hear what people are saying.?
If Gordon lives up to expectations, it won't be long before we see his mother sporting a crisp No. 28 jersey in the stands.