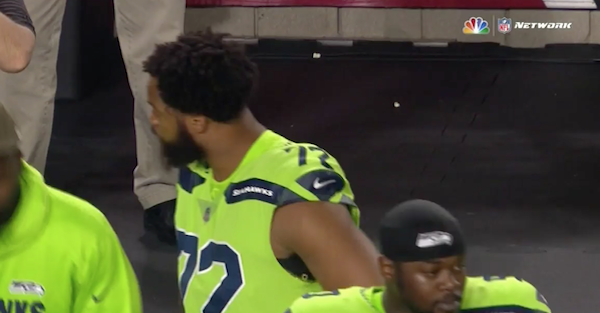 Clippit/Screenshot
Seattle's Michael Bennett has been one of the more prominent players in the ongoing protests in the NFL, but on Thursday, Bennett reversed course from his kneeling and stood during the anthem for the first time this season.
Bennett again clarified after the game that he stood to honor the military ahead of Veteran's Day, but also that his protesting has never been against the military.
The end of that quote also seems to show some of Bennett's frustrations with the questions he has been getting about the protests. After consistently getting questions about why he was kneeling, the defensive lineman seemed thrilled that someone actually asked why he opted to stand on Thursday.
Bennett decided to kneel earlier this season, and noted he would continue taking a stand against oppression in America back in mid-October.
Obviously, Thursday night was an outlier.
"I want people to understand that I love the military. I love my brothers in the military. I love the hot dogs like every other American, I love football like any other American. But I don't love segregation. I don't love riots or oppression. I just want to see people have the equality they deserve. I want to be able to use this platform to continuously push the message of that. How can we continuously love one another and understand that people are different? And just because they're different doesn't mean that you shouldn't like them — because they don't smell the way that you smell, they don't eat what you eat. Just because they don't pray to the same God you pray to doesn't mean you should hate them. Whether it's Muslim, whether it's Buddhist, whether it's Christianity, whatever it is I just want people to understand that no matter where we're in this thing together. It's more about being a human being at this point."
Bennett, whose father was in the Navy, is a two-time Pro Bowler and one-time Super Bowl champion with the Seahawks. He played the first four seasons of his career with the Tampa Bay Buccaneers and the last five seasons in Seattle.
He's registered 205 tackles, 52.0 sacks, 11 forced fumbles and five fumble recoveries over his career.