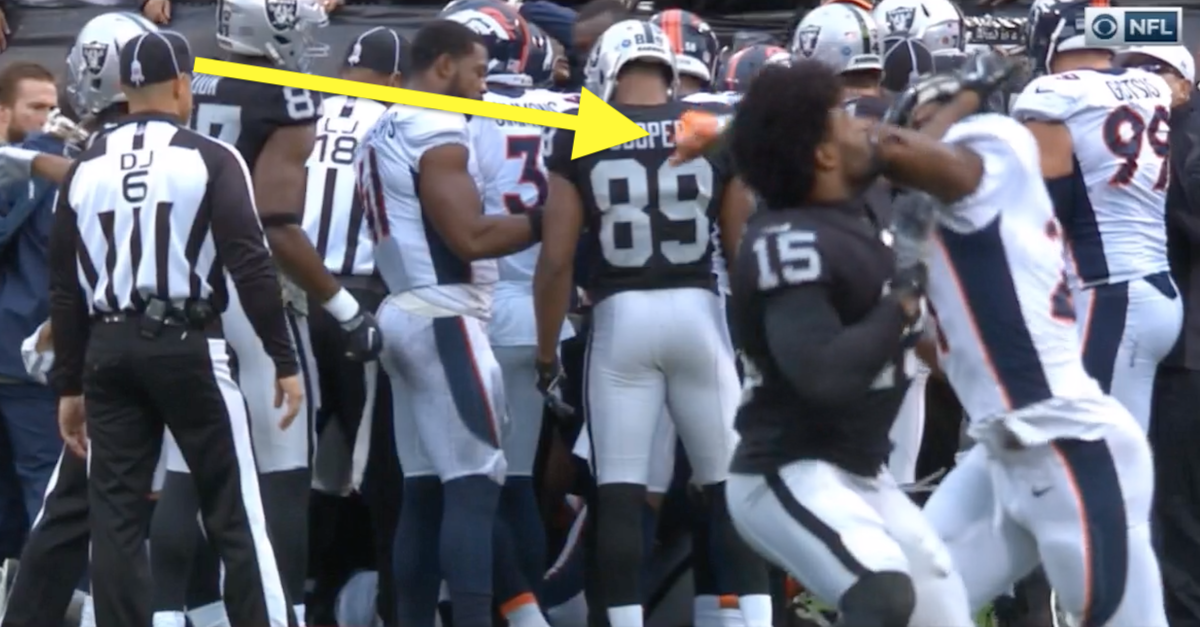 NFL screenshot
The Oakland Raiders and Denver Broncos are fierce on-field rivals, and the chippy play escalated on Sunday as three players were ejected.
Wideout Michael Crabtree and defensive back Aqib Talib were ejected for fighting and Gabe Jackson was tossed for making contact with an official.
The only way to get to the visitor's locker room was by going through the home team's sideline, which meant Talib had to walk through the Raiders' sideline. Luckily for him, Marshawn Lynch escorted him to the locker room.
Talib and Crabtree have plenty of history, when Talib snatched Crabtree's chain last year during a skirmish.
The confrontation began when the two exchanged words after an incomplete pass along the right sideline. Talib shoved Crabtree as he got up off the turf, and Crabtree returned the favor with a head butt to the front of Talib?s helmet?all of which led to the eventual snatch and grab from Talib.
Talib?s explanation for the act, which ended up breaking Crabtree?s chain, did little to help justify it.
?He?s just been wearing that chain all year,? Talib said after the game. ?It?s just been growing on me. I said if he wears that chain in front of me, I?m going to snatch it off. He wore it in front of me, so I had to snatch it off.?
Despite an official standing just feet from the incident when it went down, and Crabtree pleading for a flag, Talib was not penalized.
Denver went on to win the game 24-6.