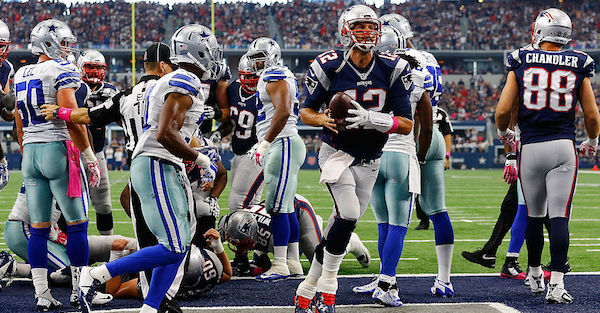 Photo by Mike Stone/Getty Images
ARLINGTON, TX - OCTOBER 11: Tom Brady #12 of the New England Patriots runs for a touchdown against the Dallas Cowboys during the first half of the NFL game at AT&T Stadium on October 11, 2015 in Arlington, Texas. (Photo by Mike Stone/Getty Images)
It hasn't been a great season for the New England Patriots so far. The reigning Super Bowl champs find themselves four games in with a 2-2 record, and the season won't be getting any easier.
New England has a dangerous Tampa Bay Buccaneers team up next on the schedule and a matchup with the Falcons is looming large in late October.
Of course, with the Patriots the only thing that matters is post-season play, but coming off a 33-30 loss to Cam Newton and the Carolina Panthers, former New England executive Michael Lombardi doesn't even think the playoffs are a guarantee for this team.
Here's what he said on The Ringer?s ?GM Street? podcast, as passed on by Zack Cox of nesn.com:
?They?re going to have to go back to basics,? Lombardi said on The Ringer?s ?GM Street? podcast. ?It?s going to be very difficult, but this is unlike any Patriots team I?ve ever seen. ? To me, the Patriots? defense, that?s not a playoff-caliber defense right now. That?s not a playoff-caliber team.?
Not only did Lombardi call out the defense and the team in general, but he went on to say that he doesn't believe things are going to get much better for New England. He believes the Pats are too reliant on Tom Brady, and with the defense struggling in the red zone, the Patriots are being put in situations even Brady would have a hard time overcoming.
It goes deeper than that for Lombardi, though. In fact, he believes there's a lack of communication — which is very rare for a Bill Belichick coached team.
?We?ve seen it every week. We saw it in the opening week against Kansas City. It didn?t happen in New Orleans, but it happens every week. And there?s a huge communication problem. There?s a complete disconnect that I?ve never seen before in my career around Bill Belichick in terms of the back end.?
It's worth noting that it's very easy to pile on a team coming off a loss, and this is the New England Patriots we're talking about. Brady is still one of the best quarterbacks of all-time and the same can be said of Belichick in the coaching ranks.
The Patriots could easily figure this out and the season is still very young. With that said, Lombardi does know a thing or two about this organization, so if he's worried about the Pats' playoff chances — perhaps it's wise to listen.