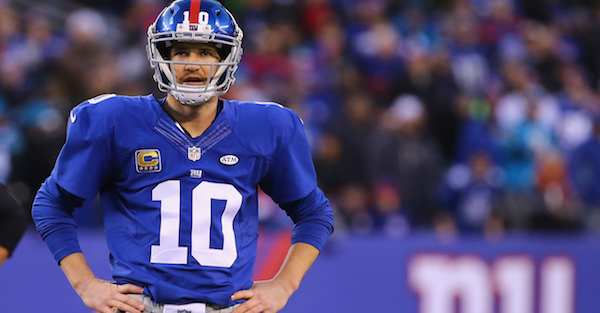 Al Bello/Getty Images
EAST RUTHERFORD, NJ - DECEMBER 20: Eli Manning #10 of the New York Giants looks on against the Carolina Panthers during their game at MetLife Stadium on December 20, 2015 in East Rutherford, New Jersey. (Photo by Al Bello/Getty Images)
Michael Strahan is known more as a television personality nowadays more than anything else, which makes it easy to forget that at one time he was a heck of a football player for the New York Giants.
Strahan played for the Giants for his whole career, 15 seasons, notching an incredible 141.5 sacks, a stat that includes his NFL sack record, 22.5, in the 2001 season.
There are few people now outside of the organization more qualified to talk about the Giants than Strahan, so it shouldn't be surprising that he has strong feelings on the benching of long-time quarterback Eli Manning.
It also shouldn't be surprising that Strahan is completely against it.
Here's what he recently told Mike Garafolo of the NFL Network, as passed on by Pro Football Talk:
?I think we?re all surprised and disappointed,? Strahan said. ?I don?t think they?re handling it very well. I don?t think you put it all on Eli, the season of failure on his part. I think it?s a team game, team sport, we all understand that. Sometimes one person gets thrown under the bus as a martyr and that seems to be Eli in this case. But I think it goes a lot higher than the players on the field. I don?t think a lot of the supporting things put in place before the season were good for him. That has to do with more than just Eli.

?Here?s a guy who?s been the epitome of this organization, the class of this organization for a long time, for 14 seasons. And with four games to go that aren?t going to change the season one way or the other, this just isn?t right. I don?t think there?s any player, current or former, who feels like this is right.?
To Strahan's point, Manning has basically been the face of the Giants since he first took over in 2004. He hasn't always been perfect, but he's been to four Pro Bowls representing the Giants and has led the franchise to two Super Bowl wins, which is more than most quarterbacks can say — getting one Super Bowl is hard enough.
Manning has never really found himself in trouble and he always has represented the Giants in a professional manner, so for him to be the fall guy for New York's terrible season is a bit of a shocker.
For what it's worth, Strahan and Manning are former teammates, but it doesn't take an NFL insider to see that New York has handled this 2-9 (so far) season poorly.