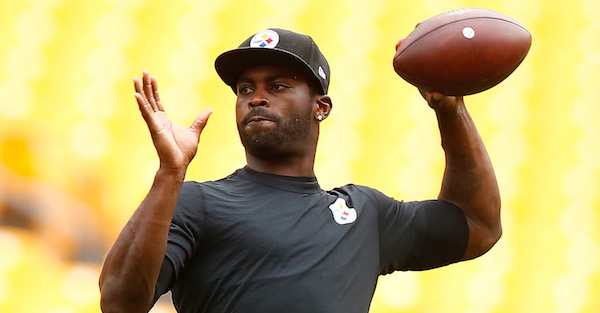 Jared Wickerham/Getty Images
PITTSBURGH, PA - SEPTEMBER 03: Michael Vick #2 of the Pittsburgh Steelers warms up prior to the preseason game against the Carolina Panthers at Heinz Field on September 3, 2015 in Pittsburgh, Pennsylvania. (Photo by Jared Wickerham/Getty Images)
Michael Vick recently retired after 13 seasons in the NFL, but he hadn't actually played since October of 2015.
Related: After 13 years, an NFL quarterback has decided to call it quits
Vick, 36, said he decided to formally retire after the Minnesota Vikings didn't give him a call after Teddy Bridgewater suffered a season-ending injury, according to Chris Tomasson of the St. Paul Pioneer Press.
?Me and the guys (his associates) were sitting on the couch, and I thought I was going to get a call, man. But they didn?t call. That was probably the reason I chose to go into retirement, because I could have helped that football team….. I think they dropped the ball on that one. Me and Adrian Peterson would have been dynamic. I think a lot of these general managers, they don?t make the right decisions. Ultimately, I think it jeopardizes their careers, too. But it?s all in who you want. I would have loved to play with Adrian and played with the Vikings. But it?s all good.?
Vick would have been an intriguing fit with the Vikings, though he wasn't very effective during his stint with the Pittsburgh Steelers. There probably wouldn't have been much difference between Vick and Sam Bradford, but Vick's durability would've likely been an issue for Minnesota.
(h/t Deadspin)