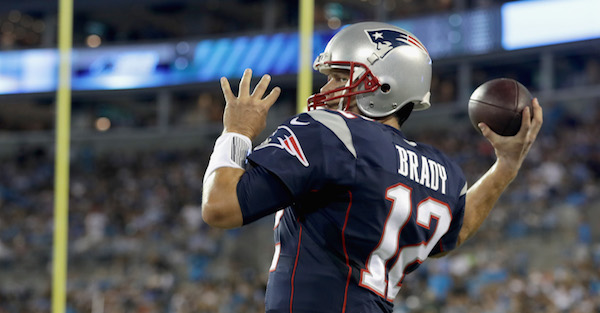 Streeter Lecka/Getty Images
CHARLOTTE, NC - AUGUST 26: Tom Brady #12 of the New England Patriots stays loose on the sideline in the 3rd quarter against the Carolina Panthers at Bank of America Stadium on August 26, 2016 in Charlotte, North Carolina. (Photo by Streeter Lecka/Getty Images)
Mitch Trubisky is the franchise quarterback the Chicago Bears have been waiting for, at least according to one of the most popular names in franchise history.
Legendary tight end and head coach Mike Ditka told TMZ Sports that he was impressed by the Bears rookie quarterback and said he should be named the team's starting quarterback in Week 1, even comparing his debut favorably to Tom Brady and Fran Tarkenton's.
"What are your options? You think you're going to win with the other guys?" Ditka said. "You've got to make a decision. Where are you going with the organization? But I thought Trubisky for a rookie, in his first game, I thought was outstanding. I don't know too many rookies including Tom Brady or anybody else that's ever had that kind of a start. Now, one game doesn't make a career, I understand that. The kid looked awfully good, he looked awfully composed, he threw the ball very accurately. I thought he made good decisions all the way through, avoid the rush at times. I don't know what else you could ask of a quarterback so if he's not your quarterback, you've got problems."
Chicago selected Trubisky with the No. 2 overall pick in the 2017 NFL Draft.
The Bears have struggled to find consistency at quarterback for decades with 30 different players under center since 1977. Chicago recently cut ties with Jay Cutler who, despite his lapses, is the franchise leader in passing yards and touchdowns.