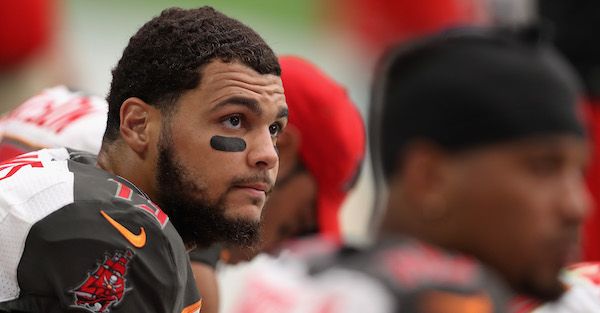 Christian Petersen/Getty Images
GLENDALE, AZ - SEPTEMBER 18: Wide receiver Mike Evans #13 of the Tampa Bay Buccaneers watches from the sidelines during the NFL game against the Arizona Cardinals at the University of Phoenix Stadium on September 18, 2016 in Glendale, Arizona. (Photo by Christian Petersen/Getty Images)
Mike Evans is doing a complete 180 on his national anthem stance after choosing to sit during its playing before last Sunday's home game against the Bears.
The third-year Buccaneers wide receiver was criticized roundly when it was revealed that his motivation was to protest the result of the presidential election, and he didn't even bother to vote.
Evans is reportedly registered to vote in his hometown of Galveston, Texas, but when he was asked by fellow teammate Louis Murphy on Instagram last Tuesday if he voted, he replied, "No."
After the game, Bucs head coach Dirk Koetter expressed disappointment at Evans' protest.
"Yeah, I'm disappointed at that," Koetter said. "I also respect Mike?s freedom of speech and freedom of expression. I?m not going to speak for Mike in any form at all,? he said. ?I?m not going to get into any advice I?d have for Mike.?
RELATED: ESPN anchor torches NFL player for national anthem protest
Evans has since gone the other way, releasing a statement Tuesday that said he will no longer remain seated during the national anthem and will be searching for more effective ways to express his message.
?I want to start by apologizing to all the U.S. military members, their families, and the fans who I offended by my actions on Sunday. It was never my intention as I have tremendous respect for the men and women who serve our country. I have very strong emotions regarding some of the many issues that exist in our society today. I chose to sit as an expression of my frustration towards this year?s election. It was very personal for me, as it was for so many Americans. With that being said, I will not sit again during the National Anthem because I want to focus my efforts on finding more effective ways to communicate my message and bring about change by supporting organizations and movements that fight for equal rights for minorities. This Sunday, I will be back to standing with my teammates.?
The Bucs play at Kansas City next.