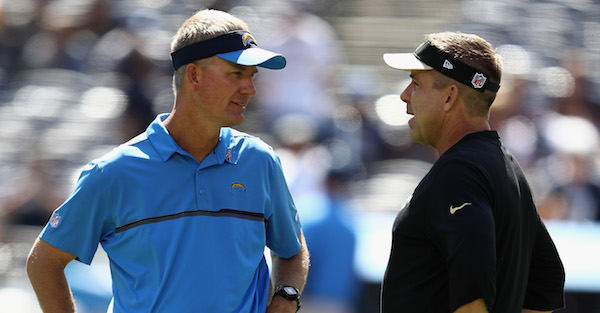 Sean M. Haffey/Getty Images
SAN DIEGO, CA - OCTOBER 02: Head coach Mike McCoy of the San Diego Chargers and head coach Sean Payton of the New Orleans Saints talk during prgame warmups at Qualcomm Stadium on October 2, 2016 in San Diego, California. (Photo by Sean M. Haffey/Getty Images)
Denver Broncos offensive coordinator Mike McCoy has reportedly accepted the same position as part of new head coach Steve Wilks' Arizona Cardinals staff, according to NFL Network's Ian Rapoport.
Additionally, former Seattle Seahawks offensive coordinator Darrell Bevell, who also interviewed for the Cardinals' offensive coordinator vacancy, will now interview for the same position with the Minnesota Vikings.
McCoy had previously served as the head coach of the San Diego (now Los Angeles) Chargers from 2013-16 and finished with a 27-37 overall record, which included consecutive last-place finishes in the AFC West.
The coach took over as the Broncos' offensive coordinator prior to the 2017 season, but was fired after the team suffered a six-game losing streak in November.
Bevell spent the past seven seasons working as Seattle's offensive coordinator, which included winning a Super Bowl in 2013 and winning back-to-back AFC championships from 2013-14.
He had previously worked as the Vikings' offensive coordinator from 2006-10.