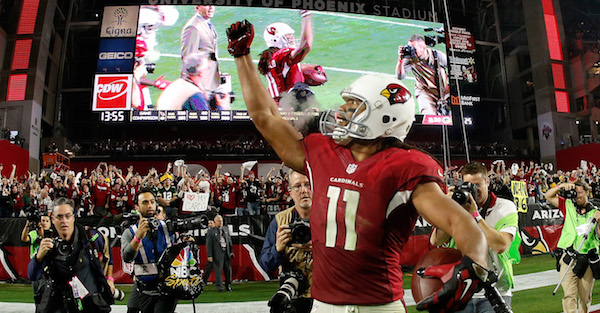 GLENDALE, AZ - JANUARY 16: Wide receiver Larry Fitzgerald #11 of the Arizona Cardinals celebrates his game winning touchdown in overtime of the NFC Divisional Playoff Game at University of Phoenix Stadium on January 16, 2016 in Glendale, Arizona. The Arizona Cardinals beat the Green Bay Packers 26-20. (Photo by Christian Petersen/Getty Images)
Larry Fitzgerald showed Saturday evening why he's one of the most reliable receivers when it comes to the NFL postseason, registering 176 yards and nearly every yard of the Arizona Cardinals' game-winning overtime drive.
Over his postseason career, Fitzgerald ranks at the top of the list through eight games, notching over 900 yards:
With that bit of information, it poses the question about whether he's the best at his position when it comes to the playoffs?
He absolutely took over Saturday's game against the Green Bay Packers, as Carson Palmer found a way to go at him over and again. He had over 100 yards in each of his first four playoff games. Fitzgerald had a strong showing in the 2009 playoffs.
The only real blemish he has on his record is a three-catch, 31-yard performance in 2014 against…you guessed it, the team he matches up against Sunday — the Carolina Panthers.
Fitzgerald has a ways to go if he hopes to break Jerry Rice's career total of 2,245. For comparison's sake, Fitzgerald has just one playoff game under 50 yards while Rice notched 11, including career-lows of six yards and one game where he was held catchless.
Before Fitzgerald can even think about that, he'll need to get through standout defensive back Josh Norman and the Panthers.