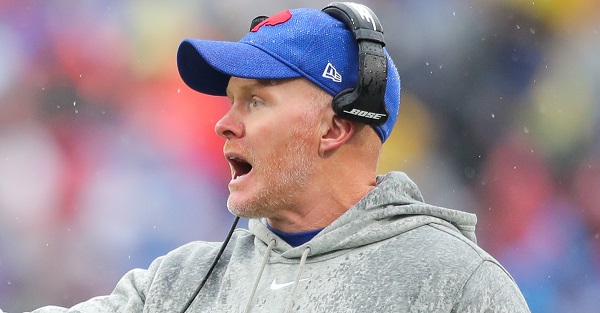 Brett Carlsen/Getty Images
ORCHARD PARK, NY - OCTOBER 29: Head Coach Sean McDermott of the Buffalo Bills yells during the first quarter of an NFL game against the Oakland Raiders on October 29, 2017 at New Era Field in Orchard Park, New York. (Photo by Brett Carlsen/Getty Images)
Just two weeks ago, the Buffalo Bills were one of the more interesting and positive stories in the NFL. After losses to the Jets and Saints (by a lopsided margin), that optimism is fading, though, and head coach Sean McDermott elected to pull the trigger on what many will describe as a panic move on Wednesday.
McDermott announced at a press conference that he will be benching entrenched starting QB Tyrod Taylor in favor of youngster Nathan Peterman.
Mike Rodak of ESPN brought word for McDermott on the reasoning and he said, "Really, it's about becoming a better team. … Every position is evaluated and that's the direction I decided to go." Beyond that, McDermott praised Peterman's maturity despite his status as a rookie.
Taylor fell out of favor with the previous front office in Buffalo but, in the same breath, his individual play seems to be far down the list of issues in Buffalo at the moment. The Bills were absolutely gashed, to the tune of six touchdowns and nearly 300 yards, by the Saints on the ground last week and, while Taylor was not good, pinpointing the quarterback position as an issue is certainly controversial.
At 5-4, the Bills are still alive in the AFC playoff race but it is hard to envision a scenario in which a fifth-round pick from this draft will be able to lead them there. At the end of the day, this feels like a long-term move and that is very unusual for a team still sporting a record above the .500 mark.