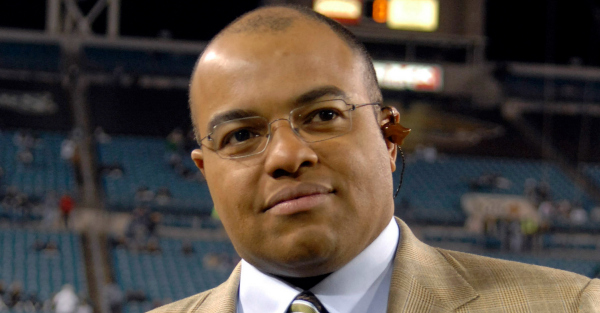 Al Messerschmidt/Getty Images
ESPN commentator Mike Tirico on the sidelines as the Jacksonville Jaguars host the New York Giants on ESPN Monday Night Football Nov. 20, 2006 in Jacksonville. The Jaguars won 26 - 10.
Mike Tirico left ESPN for NBC less than a year ago, but he is already climbing the ladder at his new employer.
Related: NFL backtracks on Mike Tirico decision, but only when it's convenient
Tirico and Bob Costas appeared on NBC's Today Show, and they announced Tirico will be taking over for Costas for Olympic coverage starting at the 2018 Winter Olympics in Pyeongchang, South Korea.
NBC has the rights to the Olympics through 2032, and Tirico will serve as the primetime host. Costas has held that role for every Olympics since 1992.
Tirico will also be taking over as host for Costas on Sunday Night Football. It has been speculated and assumed that Tirico will eventually take over for Al Michaels as the play-by-play man on Sunday Night Football whenever Michaels retires.
Costas isn't officially retiring, and he described his new role as the "Tom Brokaw phase" of his career. NBC Sports chair Mark Lazarus said Costas will still be broadcasting some.
?He?ll have an on-going role around our big and iconic events,? Lazarus said. ?But in terms of day-to-day, he?s taking a step back as he heads towards slowing down his trajectory with us.?
Tirico, 50, served in a plethora of roles at ESPN, and his was best known for his role as the play-by-play man for Monday Night Football from 2006-2015.
(h/t Deadspin)