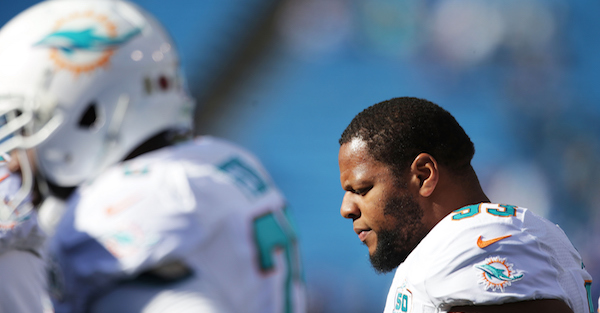 ORCHARD PARK, NY - NOVEMBER 08: Ndamukong Suh #93 of the Miami Dolphins walks onto the field before the first half against the Buffalo Bills at Ralph Wilson Stadium on November 8, 2015 in Orchard Park, New York. (Photo by Brett Carlsen/Getty Images)
NFL reporter Ian Rapoport reported Sunday morning details of Miami Dolphins defensive tackle Ndamukong Suh's speech to his teammates, which included noting some teammates aren't good enough to play with him and the defensive schemes aren't good enough.
The defender, clearly irked by leaked details of speech that happened, according to Rapoport's source, tossed shade at the reporter Sunday night:
https://instagram.com/p/-sVbk0Ipg_/
https://instagram.com/p/-sVe02ophD/
Suh has had some questionable decisions in the past, but most of those have remained on the football field, not off it. Rapoport is a very well-respected reporter in the league, so it's hard to argue against his normally well-placed sources.