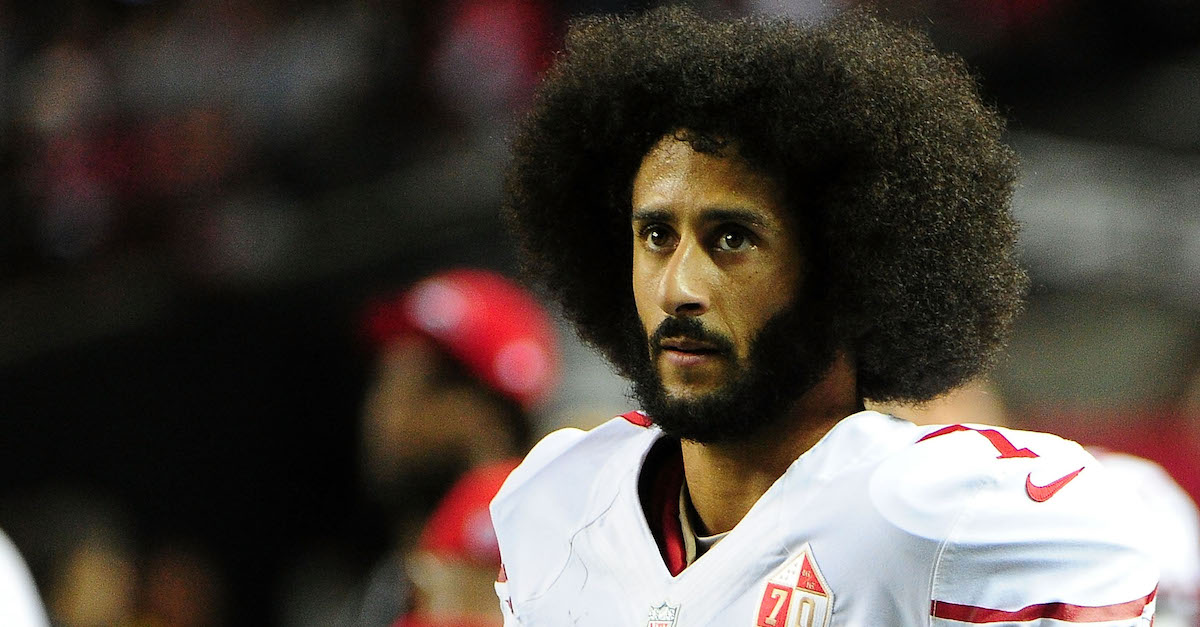 Scott Cunningham/Getty Images
ATLANTA, GA - DECEMBER 18: Colin Kaepernick #7 of the San Francisco 49ers looks on from the sidelines during the second half against the Atlanta Falcons at the Georgia Dome on December 18, 2016 in Atlanta, Georgia. (Photo by Scott Cunningham/Getty Images)
A police officer from the University of Nevada caught attention online for a Colin Kaepernick Halloween costume he wore that was simply in poor taste.
In fact, in was a portrayal of the former San Francisco 49ers' quarterback that was deemed "insensitive and offensive" according to the officer's police chief.
The costume can be seen below. It was deleted off social media, but Buzzfeed was able to save it and used it while promoting the story on Twitter:
Buzzfeed also passed on the comments from University of Nevada, Reno, police chief Adam Garcia, who admonished the officer who donned the costume, Antonio Gutierrez:
"For those who have seen the Halloween costume of one of our officers apparently mocking a citizen who has chosen to take advantage of his constitutional right to protest, I offer my sincere apologies," UNR Police Chief Adam Garcia said in a statement. "Members of our profession are held to a higher standard and denigrating another — on or off duty — is insensitive for its lack of respect and lack understanding on how others may negatively view their actions and may be impacted.
Behavior such as this magnifies unsafe feelings and lack of trust in police, especially when that individual is responsible for the safety of all members of the University, regardless of color, ethnicity, sexual orientation or religion," Garcia said in his statement. "At a time when officers should be heightened in their attentiveness to the perception by our community, this act seems extremely out of touch with those sentiments and reflects poorly on all of us."
That's a strong statement from the UNR police department though it's worth noting that Gutierrez, the officer in question, was reportedly not disciplined.
It's also worth noting that Kaepernick, who was drafted in the second round of the 2011 NFL draft by the San Francisco 49ers, played for four seasons at Nevada — winning two WAC offensive player of the year awards.
He has not commented on the costume.