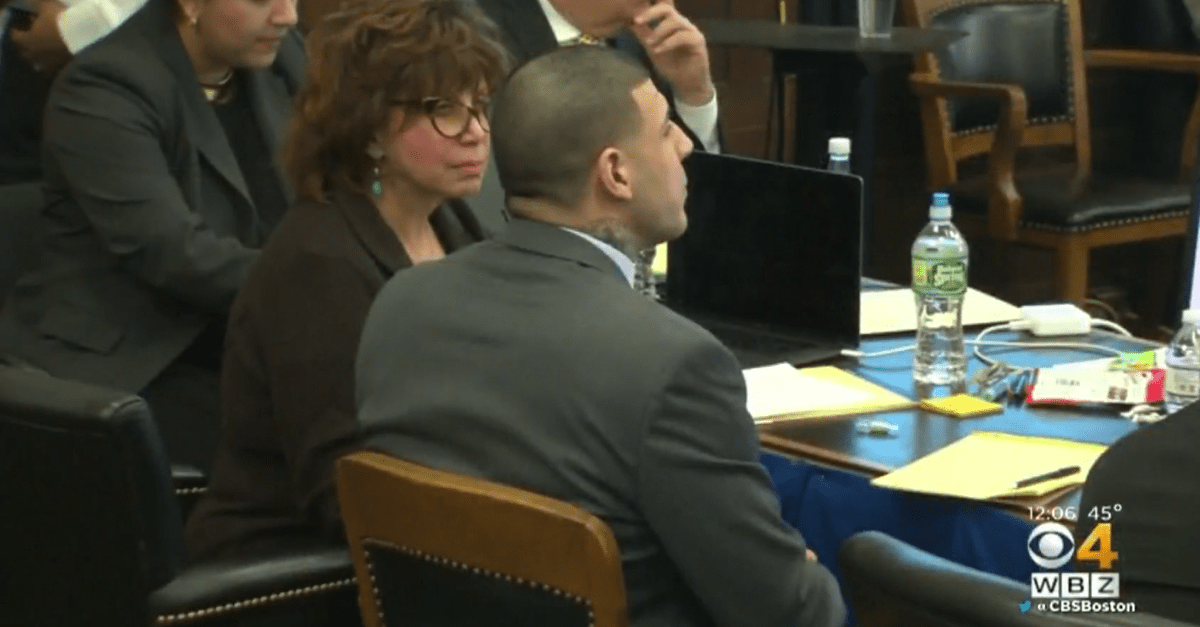 WBZ-TV Screen Shot
The Aaron Hernandez case may be far from over.
A new legal question that has far-ranging implications has come to the fore, and that is ? might the NFL and New England Patriots have to pay back money Hernandez never received as a result of his legal troubles?
Hernandez was serving a life sentence for the murder of Odin Lloyd when he was found dead in his jail cell Wednesday from an apparent suicide. But Hernandez could have his conviction vacated because he can no longer assist in his appeal.
Michael Coyne, the Massachusetts School of Law Dean and President, told USAToday: ?The key here is when a defendant is no longer able to assist with his appeal, the law says the conviction should be vacated. In a sense, it goes back to the point where he was only charged.?
And, according to the law, the case goes back to the beginning, as if nothing ever happened, and his record would be expunged.
The New England Patriots, in 2015, withheld some $6 million from Hernandez ? a portion of his signing bonus ($3.5 million) and a $2.5 million salary. There may have also been some NFL pension implications.
?And that?s the question that?s starting to be raised with respect to the bonus provisions in his contract and his NFL pension,? lawyer Michael Coyne told CSNNE?s ?Toucher and Rich? Wednesday, via the Patriots Wire. ?If these convictions are ultimately vacated ? both his conviction with Odin Lloyd and his conviction on the gun charge ? because of his failure to appeal, will his estate, will his child and his wife be able to recover either some of the bonus that?s still due to him under the Patriots contract or any of his pension benefits that the NFL might owe him??
It's a fascinating twist that will take some time to unravel.
MORE ON AARON HERNANDEZ:
Former Patriot says he was ?pure evil.?
The Massachusetts Appeals Court could make a stunning announcement in the Hernandez case
Hernandez?s representatives skeptical her committed suicide
Aaron Hernandez?s lawyer says he was the victim in the double murder trial