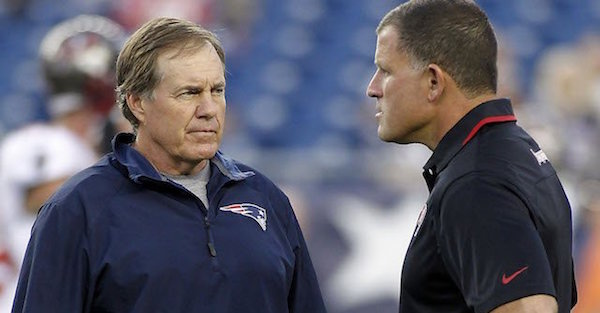 @NESN/Twitter
@NESN/Twitter
Former NFL head coach and current Ohio State defensive coordinator Greg Schiano is reportedly expected to interview with the New England Patriots' to replace departing defensive coordinator Matt Patricia, a source confirmed to NBC Sports Boston's Gary Tanguay.
Head coach Bill Belichick has a long history with Schiano, which included hosting the coach and his Tampa Bay Buccaneers staff during joint practices in 2013. His son, current New England safeties coach Stephen Belichick, also served as a longsnapper at Rutgers during coach's tenure with the team.
Belichick also defended Schiano's character in November after Tennessee fans protested his reported hiring due to his rumored enabling of Jerry Sandusky's sexual assault of underage children during his time as a Penn State.
"Zero reservations," Belichick said on a conference call in November when asked if he'd vouch for Schiano. "Zero."
According to a report, Schiano allegedly knew of Sandusky?s sexual abuse and turned a blind eye, according to testimony from former Penn State assistant Mike McQueary that was unsealed in 2016 by a Philadelphia court.
Schiano has denied the allegations in the past, having told ESPN?s Adam Schefter: ?I never saw any abuse nor had reason to suspect any abuse during my time at Penn State.?
Acting defensive coordinator Matt Patricia accepted the Detroit Lions' head coaching position last month and will coach his final game with the Patriots during the Super Bowl on Sunday.