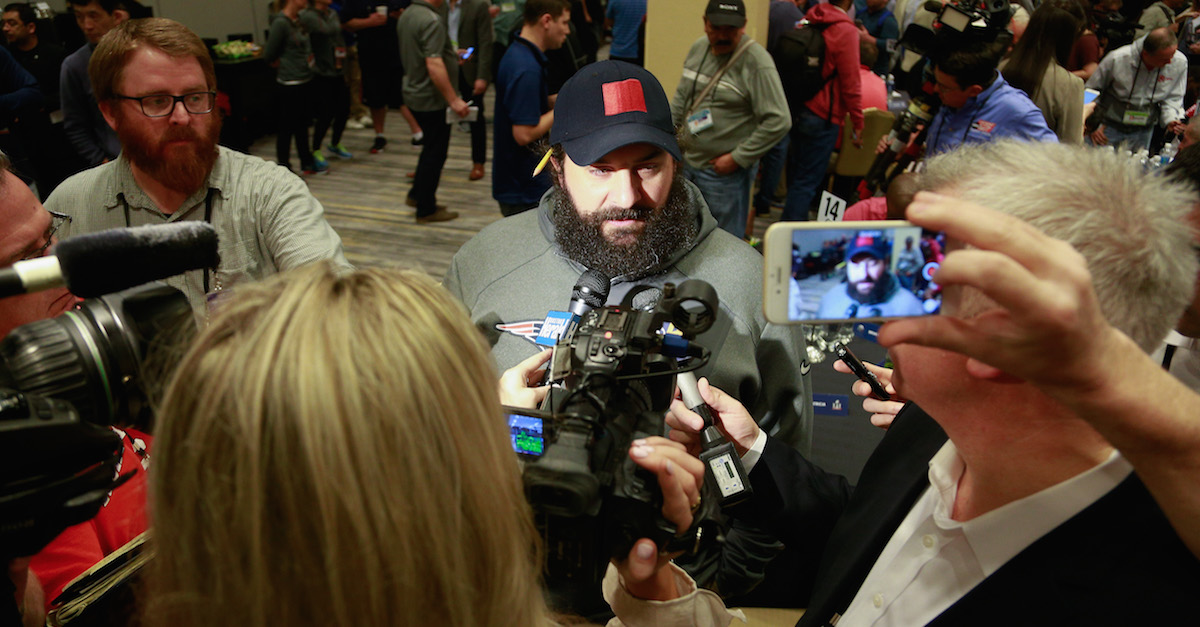 Bob Levey/Getty Images
HOUSTON, TX - FEBRUARY 02: Defensive coordinator Matt Patricia answers questions during Super Bowl LI media availability at the J.W. Marriott on February 2, 2017 in Houston, Texas. (Photo by Bob Levey/Getty Images)
New England Patriots defensive coordinator Matt Patricia is believed to be the frontrunner for the New York Giants' head coaching job, according to Pat Leonard of the New York Daily News.
On Wednesday, Leonard reported that "all signs" pointed to the Giants hiring the Super Bowl-winning defensive coordinator.
Patricia reportedly had interviews with the Giants, Detroit Lions and Arizona Cardinals last week, but seems to favor New York, according to multiple sources.
Patricia, who's served as New England's defensive coordinator since 2012, has been a candidate for other head coaching vacancies in recent years and is reportedly the top candidate for the Lions' gig as well, according to Sports Illustrated's Peter King in his latest MMQB blog.
If Patricia does take the Giants job, Houston Texans defensive coordinator Mike Vrabel would become the leading candidate in Detroit, King reported.
Patricia's colleague, Patriots offensive coordinator Josh McDaniels, is also reportedly a candidate for both the Giants and Indianapolis Colts coaching vacancies should he leave New England, according to the Daily News.
However, the report claims that "Indianapolis is considered the more likely landing place" after the franchise's top candidate, former Chiefs offensive coordinator Matt Nagy, accepted the Chicago Bears' head coaching position earlier this week.
Minnesota Vikings offensive coordinator Pat Shurmur, 52, was also reported as a candidate for the Giants' head coaching job following an interview on Saturday. Shurmur holds a 9-23 head coaching record during two seasons with the Cleveland Browns (2011-12), but has flourished in Minnesota having revived the career of backup-turned-starter Case Keenum as the Vikings' quarterback in 2017.
However, it's Patricia, a New York native and former offensive lineman, that is believed to be favored by new general manager David Gettleman who, according to the Daily News, is keen on fixing the Giants' offensive line and improving the franchise's culture.
Among his playing experience in the trenches and success improving the Pats' defense, the coordinator also has a bachelor's degree in aeronautical engineering from R.P.I. and a master's in education, which the Daily News believes is enough to fit the franchise's needs.
Patricia would be the first defensive-minded coach to take over the Giants since Pro Football Hall of Famer Bill Parcells initial retirement in 1990. During that span, New York has had five other coaches: Ray Handley (1991-92), Dan Reeves (1993-96), Jim Fassel (1197-2003), Tom Coughlin (2004-2015) and Ben McAdoo (2016-17).