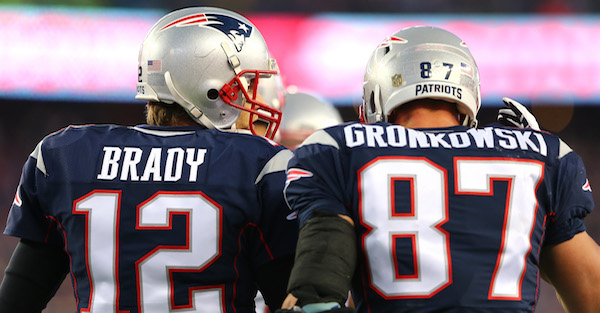 Elsa/Getty Images
FOXBORO, MA - JANUARY 16: Tom Brady #12 of the New England Patriots speaks to Rob Gronkowski #87 after a first quarter touchdown against the Kansas City Chiefs during the AFC Divisional Playoff Game at Gillette Stadium on January 16, 2016 in Foxboro, Massachusetts. (Photo by Elsa/Getty Images)
There's no love for NFL commissioner Roger Goodell from the New England Patriots and you can count Rob Gronkowski among the current players making it known.
During a sit-down interview with ESPN, Gronkowski said if Goodell attempts to get into Gillette Stadium, he thinks fans will physically prevent him (H/T Pro Football Talk)

?To tell you the truth, I really don?t think so,? Gronkowski said. ?The fans are nuts, they?re wild, and they have the Patriots? back no matter what. They have Tom?s back. I?m telling you, he won?t get through the highway if the fans saw him. I don?t even think he can even land in the airport in Boston because Patriot fans are the best fans, they?re the most loyal fans. I?m telling you, they might just carry out Roger themselves. They couldn?t even get to the stadium in Foxboro if he landed in Boston.?
Goodell had pretty much avoided New England since DeflateGate, with his awkward return next to Robert Kraft coming at this year's Super Bowl.
Of course that meeting ended up as this gem, as Patriots fans booed him out of the building:
And it didn't stop from there, leading Goodell to feel "really bothered," per reports.
According to Jason La Canfora from CBS Sports, Patriots owner Robert Kraft calling the win the ?sweetest ever,? and defensive coordinator Matt Patricia wearing a clown Goodell shirt had ?NFL executives seething.?
?The T-shirt really bothered him,? according to one ownership source who had been in contact with big wigs at the league office. ?The fact that Kraft didn?t stop him from wearing that ticked some people off, but did they really think he?s going to protect Goodell after all of this??
We'd imagine this situation won't soon get any better.